25 @ 25: Suicidal Tendencies, 'Join the Army'
An awkward but fun convergence of three different subcultures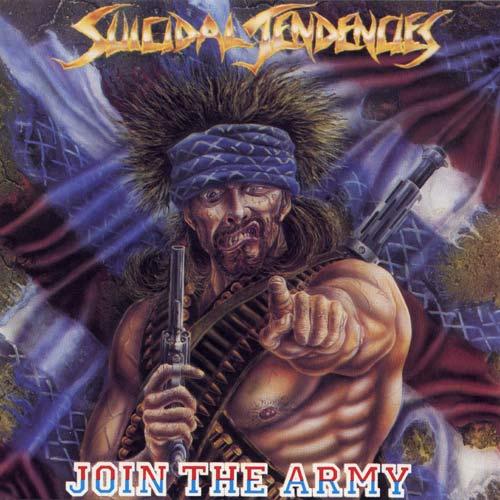 Just as the lines between hardcore and thrash metal were starting to blur in 1986 and 1987, other aspects of hardcore culture were starting to creep into the metal aesthetic as well. More specifically, skateboarding culture was on the rise in a huge, huge way, and as a teen in 1987 before you knew it several of your metalhead buddies would become immersed in the skate scene. That was certainly the case with yours truly, as I too couldn't help but absorb skateboarding's aesthetic. Granted, I was far too clumsy – and cowardly - to even try the vert skating that my younger brother excelled at, but I really dug the deck artwork (Pushead's art for the James Hetfield-endorsed Metallica Zorlac deck remains an all-time classic), Powell-Peralta's Bones Brigade movies were awesome (especially The Search For Animal Chin and Public Domain), and starting in 1987 and continuing for several years, I was a big fan of Thrasher magazine. Not so much for the geeky articles about the skateboarders themselves, but primarily for two writers in particular: the aforementioned Brian "Pushead" Schroeder and Mike Gitter. Pushead's Puszone was a tremendously witty monthly column, often about the Bay Area thrash scene, while Gitter covered a bevy of metal and hardcore music, and it was through Thrasher that I discovered such bands as Bad Religion, Corrosion of Conformity, DRI, Bad Brains, and Mudhoney. With my most influential metal mag, Canada's great Metallion, folding, and glossy magazines like Rip catering to the mainstream, Thrasher filled a void, connecting me to a more underground scene and introducing me to a lot of bands I would never have checked out in the first place.
So where am I going with all this? Well, with thrash and hardcore crossing over, and skate culture starting to infiltrate the metal realm (remember Anthrax's "Mosh it Up" deck by Brand-X?) if you were to name one moment where all three aesthetics converged completely for the first time, it would be Suicidal Tendencies' "Possessed to Skate", from their 1987 album Join the Army.
For us young metal fans, our first exposure to Suicidal Tendencies was not their classic 1983 hardcore debut, but the video for that record's timeless "Institutionalized",​ which aired on MTV regularly. One of the funniest and most biting satires to ever come out of American hardcore, the song resonated with those of us headbangers who were particularly alienated and ostracized; we split our sides over the hilarity of, "All I wanted was a Pepsi, just one Pepsi, and she wouldn't give it to me," but we also felt the despair and rage that seethes underneath the surface in singer Mike Muir's monologue before exploding into a vitriolic final verse.
So with the seed that "Institutionalized" had planted in our metal-crazed heads, the timing was perfect for the Venice, California band to make a splash with a much wider audience than before. While the 1983 album was straight-up hardcore punk, Muir had a new vision for his band. He and bassist Louiche Mayorga brought in drummer R.J. Herrera, as well as a metal-obsessed guitarist named Rocky George, who seemed to have a predilection towards Pittsburgh Pirates pillbox caps. George would be the key addition, as he would play a significant role in steering Suicidal Tendencies in the thrash metal direction they'd become most famous for, starting with Join the Army.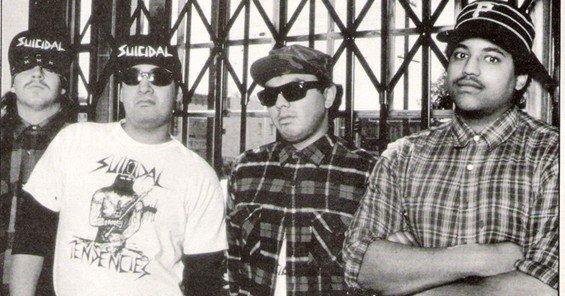 "Possessed to Skate", whose classic video premiered in the summer of 1987, was the first big metal breakthrough for the band. Originally written for a skateboarding movie proposed by director Bill Fishman (who would go on to make the cult fave Tapeheads), the movie was never completed but the video, also directed by Fishman and featuring Dr. Timothy Leary of all people, made a splash among the metal set with its pool skating stunts. As for the song, it was never anything special, merely an amateurish Motörhead rip-off, but it had its own charm, and that silly vocal hook by Muir gets in your head ("He's the wizard on the wheels / Like a modern gladiator ain't got no fears / So skate!"). When I bought the LP in 1987 I was hoping for more of the exuberance of "Possessed to Skate" and "Institutionalized",​ and found it only delivered sporadically. But aside from that song, how's the rest of Join the Army after all these years?
Join the Army remains a strange album as Suicidal tries to fuse hardcore and metal for the first time. The title track is especially awkward, combining a jam rock groove and some horrendous rapped lyrics ("We like our music to please but we ain't gonna appease / No pressure's too much to make us change our touch"), only clicking when the furious thrash break kicks in midway through. "The Prisoner" is a solid attempt at Bay Area thrash, but is severely hampered by Herrera's drumming (which would greatly improve a year later). "No Name, No Words" doesn't click, that mid-tempo groove ripping off Raven, while "Cyco" and "Looking Into Your Eyes" remain rote exercises in hardcore.
Still, there are plenty of good moments, ranging from solid to great. "A Little Each Day" is another one of those twisted Muir narratives, and while old habits die hard in the decidedly hardcore arrangement, its brooding tone works exceptionally well, and George's shredding solo adds some welcome flamboyance to the track. "I Feel Your Pain…And I Survive" combines some rampaging thrash with a little Motörhead vibe again, while "Two Wrongs Don't Make a Right (But they make me feel a whole lot better) bridges hardcore and thrash especially well.  "War Inside My Head" remains a Suicidal classic, with George providing a gigantic thrash riff and Muir coming up with some phenomenal call-and-response gang vocal hooks.
A year later Suicidal Tendencies would expand to a five-piece, hiring a new bassist and rhythm guitar player, and become an even more fully-realized thrash band, putting out one of the greatest thrash albums of all time in How Will I Laugh Tomorrow…, but as clumsy as Join the Army is, it's nevertheless an important stepping stone for Mike Muir and his band, where they furtively dipped their toes in the water before doing an all-out cannonball the following year. And at the very least, the way that album bridged metal, hardcore, and skate culture remains its one lasting legacy.
live local music on
Enter your ZIP code to see concerts happening in your area.
Data provided by Zvents
follow msn music