A typical night with the Tragically Hip
Beer, Canadiana and brouhahas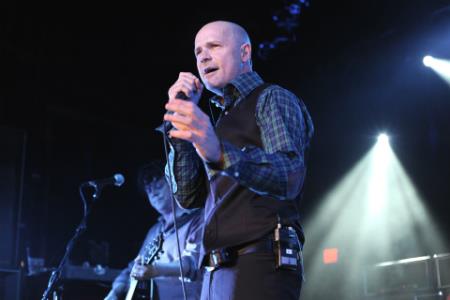 By Adrien Begrand
Special to MSN Music
The Tragically Hip experience in Canada must be strange to an outsider. After all, the long-running Kingston, Ontario, band have become a classic-rock staple in their home country, as ubiquitous as Bryan Adams and Neil Young, yet have managed to attract only a cult following elsewhere. Even more surreal is the fact that their music -- an affable blend of blues rock and pop, augmented by the thoughtful, enigmatically poetic lyrics of singer Gord Downie -- attracts the kind of liquored-up, often intense fan base that you'd expect at an AC/DC concert. A Tragically Hip show in Canada is a fascinating contrast: a nondescript, seemingly spotlight-shy foursome backing up a singer prone to quirky miming and stream-of-consciousn​ess rants playing to a crowd shouting cryptic lines with liturgical fervor. Referencing locales from the Prairies to rural Ontario, people from Bill Barilko to David Milgaard, the Tragically Hip are of their country more than any other Canadian band, and are beloved for it.
They're also your classic road dogs. Thriving in a live setting, the band tours relentlessly. In fact, a mere three days after playing a show at the trendy KOKO in Camden, London, on July 2, the Tragically Hip staged a concert in a hockey rink smack in the middle of tar sands country in Northern Alberta. One night later they were 300 miles southwest in Saskatoon, Saskatchewan's Credit Union Centre, where a passionate throng of 4,000, already soused on the local brew – Great Western, if you're curious – eagerly awaited their heroes' arrival onstage.
Bing: More on the Tragically Hip
In typical fashion, the show started with a decided lack of fanfare. With the house lights still up, Rob Baker moseyed onstage, picked up a guitar, his bandmates followed, the lights went down, and that was it, the band launching right into "At Transformation" from their 12th album, "Now for Plan A." Baker, guitarist Paul Langlois, bassist Gord Sinclair and drummer Johnny Fay, never ones to stray more than a yard from their marks for an entire show, were content to let Downie be the focal point as they reeled off song after song, each tautly performed, often extended to allow for improvisation from the guitarists. Clad in a seersucker suit, vest and hat, the irreverent Downie put on exaggerated Southern gentleman airs throughout the night. Coming across as more likeable than condescending, he'd politely doff his hat and dust off stage monitors with a white handkerchief before sitting, even when drenched in sweat as the set wore on.
As expected, the band gave the new record the most attention, playing four songs, but the audience was primed for the older material, and the venue erupted as soon as the opening bars of each old song was played. The murky, foreboding "Grace, Too" ironically had women gyrating, their beers held aloft, while men hollered the lyrics to "Poets" in oddly aggressive fashion. The rustic "Ahead by a Century" ignited a huge arena sing-along, and the R.E.M.-ish ballad "Long Time Running" had the lighters out. A Hip show in Saskatoon wouldn't be complete without the poignant "Wheat Kings," and as soon as Downie sang, "Sundown on the Paris of the Prairies," a massive cheer erupted from the proud fan base.
The last half of the two-hour show truly took off as the crowd favorites were carted out, still sounding as exuberant as ever. "At the Hundredth Meridian" was ferocious; "Courage" and "My Music at Work" transformed into stadium anthems. Easily the finest moment was when the swampy blues groove of "New Orleans Is Sinking" segued right into the heart-wrenching "Nautical Disaster," Downie's vivid lyrics made even more potent by his intense performance. By the end of the show, with the band's harder-edged fare building up the intensity of the well-lubricated crowd ("Fully Completely," "Blow at High Dough"), the band tore into "Little Bones," and the breaking point that everyone was expecting was reached. Bodies leapt over seats on the floor, fights broke out, fans rushed the stage, as helpless security personnel could do nothing. One man jumped on the barrier, escaped the clutches of one guard and ran onstage, drunkenly accosting Downie before kneeling supine at his feet. The band didn't bat an eye at the bedlam, playing the hell out of the tune as their infuriated road crew screamed in the faces of security like drill sergeants.
Set list:
At Transformation
Grace, Too
Escape Is at Hand for the Travellin' Man
Man Machine Poem
Love Is a First
Gift Shop
Ahead by a Century
Streets Ahead
Long Time Running
Poets
We Want to Be It
In View
Fully Completely
Wheat Kings
New Orleans Is Sinking/Nautical Disaster/New Orleans Is Sinking
Blow at High Dough
Encore:
My Music at Work
Bobcaygeon
At the Hundredth Meridian
Courage
Little Bones
Photo credit: Scott Weiner/Retna Ltd.
live local music on
Enter your ZIP code to see concerts happening in your area.
Data provided by Zvents
follow msn music