Briefs: Baby Antebellum is born; Billy Ray Cyrus calls off the divorce
Plus, Tim McGraw and Faith Hill put their weekend retreat on the market
• Lady Antebellum's Hillary Scott and her husband, the band's drummer Chris Tyrrell, welcomed their first child today in Nashville. Daughter Eisele (pronounced Eyes-lee) Kaye Tyrrell was described by the new mom on her social media pages as a "beautiful angel."
People.com reports the baby's name is a combination of Chris's mother's maiden name and Hillary's mom's middle name (Kaye).
"She is incredibly gorgeous," the proud father tells People.
•••••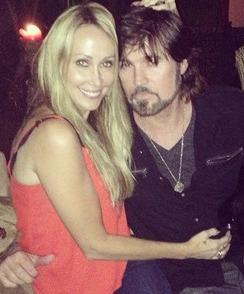 Billy Ray Cyrus and his wife Tish, have called off their planned divorce for the second time, ExtraTV.com reports. The couple—parents of Miley Cyrus—filed separate divorce petitions last month, but E! reporter Ken Baker recently talked with Tish Cyrus, who confirmed they intend to stay married.
Extra quotes Baker as saying, "I spoke to Tish and she told me they both woke up and realized they love each other and decided they want to stay together. They recently went into couples therapy, something they hadn't done in 22 years of being together, and it's brought them closer together and really opened up their communication in amazing ways."
Tish Cyrus posted this social media photo (right) of herself and her husband last night with the caption, "Date Night."
Billy Ray Cyrus previously filed for divorce in 2011, but later withdrew the petition.
•••••
Tim McGraw and Faith Hill have put their Williamson County, Tenn., farm on the market for $20 million, reports The Tennessean.
The property at 4009 Carters Creek Pike, which is a weekend getaway for the family about 45 minutes from downtown Nashville, sits on 753 acres. It includes a 3,330-square-foot restored log home, an antebellum home known as Beechwood Hall and a 12-stall barn with a caretaker residence, according to The Tennessean.
The couple maintains a primary residence in Nashville, along with other real estate holdings. The listed property, known as Bear Creek Farm, has a Franklin mailing address, but it is actually in Leiper's Fork.
McGraw and Hill purchased the property through a pair of transactions about 12 years ago, according to tax records obtained by The Tennessean. They bought about 353 acres for $5 million and the other roughly 400 acres for $8.75 million.
Beechwood Hall, built in 1856, was part of Williamson County's largest plantation and was one owned by another country music star, Hank Williams. Watch the realtor's video of the gorgeous property here and view a photo gallery here.
•••••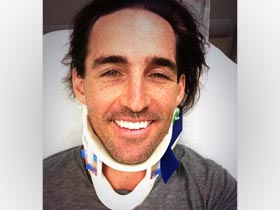 CMT.com got what it calls the "gory details" of Jake Owen's July 7 go-kart accident in a new interview with the singer. Owen says he was at a party in North Carolina and racing go-karts on a track when he flipped over while driving at about 40 miles per hour.
"It was just a very, very random thing," he tells CMT. "Things like that just happen to me.
"I was coming around this corner, and I spun it and I flipped it and I rolled it," he says. "I landed, and then I was like, 'What the . . . ?' I had a full racing jacket on, helmet, gloves and everything. But I just stood up, and everybody was like, 'Whoa, whoa, whoa' because they saw me flip on my head and then flip back over. So I was like, 'I'm fine, I'm fine.' But then I was like, 'God, my hand hurts.' Then I looked at my hand and the glove was just disintegrated. After seeing that, I was in shock."
Owen says his first thought was, "'Am I gonna be OK for my wife and my little girl?' I don't care about my hand," he says. "Nobody has come up to me and been like, 'Hey, man. Sorry to hear about your hand. I bet it sucks that you can't hold your baby right now.' Everyone's more like, 'I bet that sucks you can't play guitar.' I can't even hold [baby] Pearl right now. That's the worst part about it. I could care less about guitar."
Owen tells CMT his hand was sewn up in a North Carolina hospital (where he is pictured above in a photo he tweeted), but after flying home the next day he had surgery immediately. "They basically put my fingers back on," he says. "I have 40 stitches, from the interior out. I shattered my fingers—the bones inside. The doctor said it was like taking a cinderblock and dropping it on your hand. Like it spider webbed the bones inside my fingers. So he had to suture the bones back up to even make it a bone and then put a screw in there to keep it together."
As for his level of pain, Owen said, "It hurts like crazy." Nevertheless, he went right back to touring.
"My first show back after it was when we played Boston," he tells CMT. "All I could think about was, 'I'm not about to bail on Boston, a city where people just lost arms and legs and from this coward [expletive] bomber.' I thought that if those people are Boston strong, then I'm gonna be Boston strong. It's a just a finger. If you lose a finger, you can still sing. You still have the ability to make a living. But some of those people will never walk again because of something that wasn't even their fault. Mine was self-inflicted. So I'm an idiot. It's my fault."
Owen remains unsure whether he will regain full use of his hand. "The doctors don't know the prognosis," he tells CMT. "Until it heals—maybe in eight more weeks —we won't know. I don't know if I'll ever be able to bend my fingers the same, which is weird because I like to play golf. There are so many things I wanna do—hold Pearl, golf, play guitar. I can't even go on my boat. I mean, I can float around, but I like to surf. But mostly, I just want to hold Pearl."
live local music on
Enter your ZIP code to see concerts happening in your area.
Data provided by Zvents
follow msn music