Briefs: Darius Rucker gets a South Carolina street named for him
Plus, news from George Strait, Brad Paisley, Chris Young and more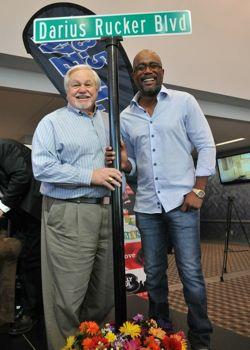 • Darius Rucker was honored this week with a street named in his honor in his hometown of Charleston, S.C. The newly christened Darius Rucker Boulevard is the road leading to the North Charleston Coliseum where his band, Hootie & the Blowfish, played in the 1990s. Rucker says he may return to the venue this fall to play a country set, according to CBS News.
Rucker is pictured with North Charleston Mayor Keith Summey at a ceremony unveiling the street sign.
•••••
• Singer Chris Young, who was hospitalized Wednesday as a result of a leg infection, kept fans updated on his condition via Twitter on Thursday.
"Still in the ICU, but wanted to says thanks for all the well wishes," he tweeted. "Sorry I had to cancel some shows guys." In a follow-up, he wrote, "OK, last message before more antibiotics, it's not a Pic line . . . It's a direct line in my jugular. #youdontwantone #trustme," then later corrected that post saying, "Sorry, central line not direct line."
•••••
• George Strait will be honored with Billboard magazine's Legend of Live Award at the 10th annual Billboard Touring Awards, to be held Nov. 14 in New York. Strait will be the first country artist to receive the prize, which recognizes individuals or bands that have made lasting contributions to live music and the touring business. The honor also "rewards professionalism and steadfast commitment to the art and craft of live performance and the fan experience at concerts," according to Billboard.com.
Strait tells Billboard he's thrilled to be acknowledged for his contributions to live music. "There's nothing more rewarding than performing in front of a sold out, pumped-up, loud crowd," he says. "That's what keeps us coming back. I love it."
As Billboard.com reports, "Nearly 40 years into his touring career, Strait remains one of the most in-demand headliners on the road." He recently completed the first leg of his farewell tour, the Cowboy Rides Away tour, which will continue in 2014.
•••••
• Alabama lead singer Randy Owen will be inducted into the Nashville Songwriters Hall of Fame this fall, along with fellow hit songwriters Will Jennings, Layng Martine, Jr., and Jeffrey Steele. The four new inductees will join the 188 existing members of the hall when they are officially inducted October 13 at Nashville's Music City Center.
Among the Alabama hits Owen wrote were "My Home's In Alabama," "Tennessee River," "Mountain Music," "Lady Down On Love," "Feels So Right" and "Christmas In Dixie." Along with his fellow band members, Owen was inducted into the Country Music Hall of Fame in 2005.
•••••
• Brad Paisley was recently pranked on stage by his "Beat This Summer Tour" opening acts, Lee Brice and The Henningsens, who rented costumes and surprised Paisley on stage in Colorado while he was performing "Alcohol." While most of the costumes were "Star Wars" themed, one band member dressed as the Tin Man from "The Wizard of Oz" while another wore a man eating shark costume. Brice was costumed as Chewbacca, with the addition of his own trademark backwards baseball cap. Watch it here.
live local music on
Enter your ZIP code to see concerts happening in your area.
Data provided by Zvents
follow msn music