Bruno Mars Takes to Instagram for Unofficial "Treasure" Video
And it's amazing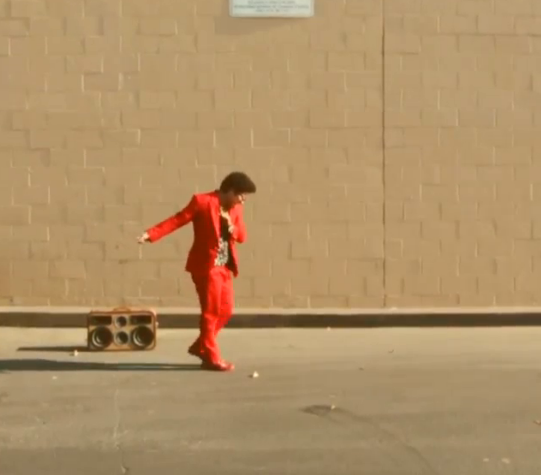 There's a reason Bruno Mars was given the weighty task of heading the halftime show at next year's Super Bowl XLVIII. Y' know, other than the fact that he's never
not
killed a live performance (hello,
Amy Winehouse tribute
from the 2011 VMAs or reggae reunion with the Marleys & Co. from the
2013 Grammys
), and other than the fact that he has a solid slew of Top 5 singles (seven to be exact) that have kept you moving for the last four years straight, it's also because he is, in every sense, an entertainer and he is here to entertain
us
.
This was no more evident than when he embarked on an impromptu InstaVideo journey and took fans along.
Much to our surprise, what started off as a simple everyday confession ("Out of milk. Off to the market.") would turn into an unofficial video for his hit "Treasure." In the first 15-second clip of the series, which includes a dramatic garage-door reveal, Bruno puts all housewives and hubbies to shame by donning his best get-up (a red-hot Dolce & Gabbana suit) to hit the grocery store. In the second clip, he hits the streets with a skip in his step, and his hybrid suitcase-stereo in tow, only stopping to bust a move.
In the third, he saunters into the liquor store with a confidence (and rapport with its owner) that shows he's been there before. In the fourth, he pulls a tri-fold "Treasure" sign from the shadows and stands on corners spinning it, like the happiest hobo ever. In the fifth, he asks an unassuming stranger to hold his suitcase while he gets some final dance moves out of his system. And in the last, he returns home for a dramatic closing to the show, but someone in his entourage messes up the moment. Damn him! Way not to be a teamplayer!
[Follow @daniellesaid]
Are you sure you want to delete this comment?
live local music on
Enter your ZIP code to see concerts happening in your area.
Data provided by Zvents
follow msn music