Coping with cancer through heavy metal
Study explores the positive impact of heavy music on cancer patients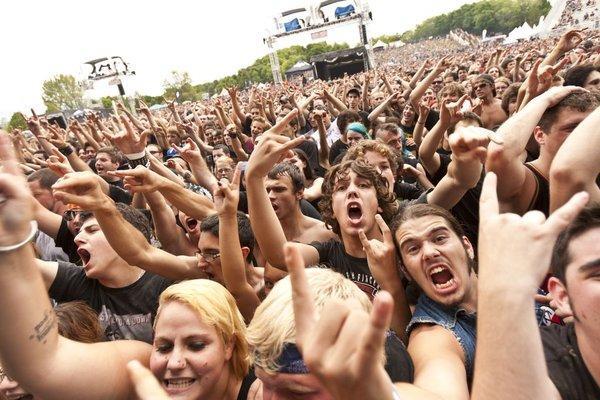 Photo by Tim Snow
All metal fans know how no matter how evil sounding, malevolent, or extreme metal music can be, its overall effect on them is always positive in the end. Whether you listen to metal for escapism or catharsis, the end result is a sense of empowerment and release, something that's been reaffirmed in a very interesting study published recently in the latest issue of Arts & Health: An International Journal for Research, Policy and Practice.
Swedish professor Fereshteh Ahmadi interviewed cancer patients ranging from ages 24 to 73, all of whom had either listened to or played music as a means of coping with their illnesses. The study explores what Ahmadi describes as "music of nature", "healing music", "religious music", "cheerful music", and lastly, "hard and heavy music", the latter referring specifically to heavy metal, hard rock, and punk. As for the latter category, Ahmadi writes, "[heavy music] can have three functions: as a source of meaning, as a source of tranquility, and as a source of expressing a sense of self."
Here's what one woman, who was diagnosed with breast cancer at 23, had to say:
I was very sad, but more than that, I was angry; I went around and asked why this had happened to me. Everything was okay before the cancer; I had a boyfriend, had started studying and was having a pretty good time. Before cancer, I had many plans. I was so depressed that I couldn't do anything. I bought some CDs and listened to them all the time; they were all heavy metal music, one was called "I Hate Therefore I Am," another was "Children of Bodom". These helped me see my life and my situation differently. I began to realize that it is no problem that I no longer have any dreams, ambition, and goals; that it was even good that I didn't see any special meaning to my life… This music gave me a new goal: to be goalless, to be different from ordinary people who stress themselves to death in order to reach a goal and again find another one to run after.
Meanwhile, another woman, who was diagnosed with cancer at the age of eight, eloquently describes the positive impact of aggressive music on herself:
The aggressiveness was good because everything felt so unfair; children are not supposed to think about death. Music is so alive, and it has so much comfort in it. I listened to aggressive music during the time I felt angry, and it was good, it was pleasant to show your feelings through the music. I got cancer when I was eight years old and I've got a handicap because of it. I showed myself as a good and calm child during the sickness, then as a teenager I tried to be like everyone else, pretended to be strong. But then suddenly it was enough. The music helped me for a while to show my anger and dissatisfaction, my real self.
Ahmadi writes, "Hard and heavy music helped them handle the conflict between their self-image as a 'normal' person and the looking-glass self, which ascribed to them the sick role. Using the imaginary world that this music had created for them, they were then able to 'come out' and express their 'ideal self,' the self they wanted others to perceive," adding that the music the metal-oriented subjects listened to "did not become a means of masking their situation, but rather a means of preparing for a normal life, especially when they put the treatment period behind them and began to return to everyday life."
It's a fascinating paper, resounding proof that having metal music in your life can be a very, very good thing.
Read Music as a method of coping with cancer: A qualitative study among cancer patients in Sweden here.
live local music on
Enter your ZIP code to see concerts happening in your area.
Data provided by Zvents
follow msn music