Exclusive: Trisha Yearwood reveals plans to move back to Nashville
Singer also opens up about her new role as a grandmother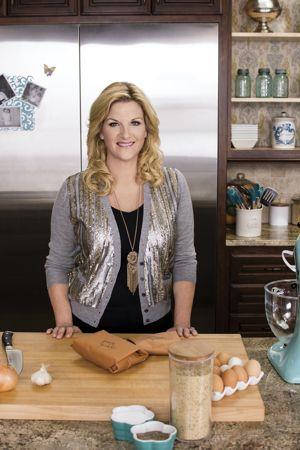 It's been six years since Trisha Yearwood has released a new album, but in an interview with One Country she reveals not only that she hopes to finish one by the end of the year, but that she and husband Garth Brooks are seriously contemplating moving back to Nashville from their current home in Oklahoma. They might make the move as soon as next spring, after Brooks' youngest daughter finishes high school.
In her six-year recording hiatus, Yearwood has been almost too busy to miss music. With two top selling cookbooks under her belt, she's successfully transitioned into a celebrity chef; making the food festival circuit and shooting her Emmy-winning show for the Food Network, "Trisha's Southern Kitchen." She's currently in pre-production for the show's fourth season, which begins filming in September. She's also been helping raise Brooks' three daughters, and put everything on hold for a time to move to Georgia to help her mother, who was battling cancer and has since passed away.
Yearwood has also been in the studio here and there, recording a track for the recently-released "Alabama & Friends" tribute album, and another with Kelly Clarkson and Reba McEntire, which will most likely appear on Clarkson's upcoming Christmas album.
"There is music in the works," Yearwood reveals about her own project. "It just seems like it has taken a backseat to so many other things in the last couple of years, but I am actively trying to finish it . . . My goal is try to get it done before the end of the year. That's my plan.
"Living in Oklahoma adds another layer of difficulty," she continues. "Garth and I are in Nashville back and forth working on things, but it's a real effort to do that, and we have to try to do it when our girls don't have something going on. We have one more left at home. She's just started [her senior year,] so that also makes it more difficult to get in the studio and try to get it done."
But when youngest daughter Allie graduates next May, Yearwood says, "We're empty nesters, so that's our opportunity to really go out and do whatever we want. I think moving back to Nashville is probably on the agenda.
"When I first moved to Nashville at 19, I felt like I needed to be in the town where what I wanted to do was happening, and I still feel that way," she continues. "I've loved living in Oklahoma. It's been a really good place to raise our kids, and I have made some of my best friends I'll ever have here, but the energy in Nashville, and just the ease of being able to run down to the studio or do what you need to do is something that I miss. It's definitely been worth the trade, but I'll look forward to being back in Nashville."
Anticipating the reaction to her first album in six years Yearwood says, "We'll see if anybody missed me or not, but as much as I love the Food Network and am enjoying myself, if I had to pick, I would always pick music. I feel like music is just something that I have to do. It feeds my soul, and I enjoy every bit of the process. I enjoy finding the songs. I enjoy the recording process. I enjoy touring. I'm not trading one for the other. Circumstances have kind of been what they are, but things are about to change."
Another big change in her life is the addition of a baby to the family since middle daughter August gave birth to the family's first grandchild in July.
Yearwood, 48, admits it's a mental adjustment to think of herself in grandmother terms. "I [recently] was in Georgia with my family, and some of them haven't seen me since I've lost some weight. My uncle said 'You look amazing' and I said, 'If I'm going to be a grandmother, I'm going to try not to look like one," she says with a laugh. "Now is the first time I've really had a baby in my life, other than my sister's kids who are all now grown."
One thing Yearwood's not worried about is what the little girl will call her when she's old enough to talk. "She'll decide," Yearwood says. "It doesn't matter to me."
Look for the rest of our interview with Yearwood next month. In part two, she breaks news that she's working on a third cookbook, talks about her successful transition from music star to celebrity chef and Emmy-winning TV cooking show personality and reveals that even she has had culinary disasters in the kitchen.
live local music on
Enter your ZIP code to see concerts happening in your area.
Data provided by Zvents
follow msn music