Future Bible Heroes' droll 'Partygoing' music
Vampires, she-devils, disco and death spike a witty twist on synth-powered pop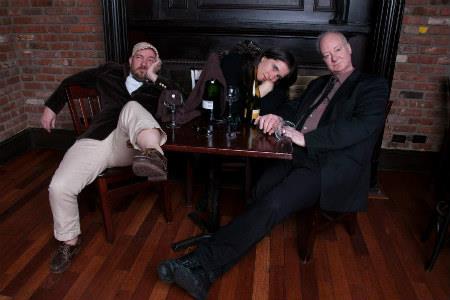 By Paul Pearson
Special to MSN Music
SEATTLE – Out of all of iconoclastic pop singer, songwriter and composer Stephin Merritt's music projects – the Magnetic Fields, the Gothic Archies, the 6ths among them – Future Bible Heroes is the only one that's been a straight songwriting collaboration the whole time. You can argue that the Heroes are more driven by Christopher Ewen, a keyboardist and recording professional with credits going back to 1984. Ewen maintains co-authorship (and even some sole authorship) of every Heroes song in their catalog.
So when the four-piece electro-pop band hit the Tractor Tavern on July 12, it wasn't jarring to see them take the stage without Merritt. The celebrated songwriter opted to skip Future Bible Heroes' tour, owing to his bout with hyperacusis, an ear ailment that makes loud noise painful. Driven by Ewen and longtime Merritt associate Claudia Gonson, Future Bible Heroes produced a spirited and sharp 18-song set that disappointed few in the crowd of approximately 200.
Gonson is perhaps known for being the business mind of Merritt-affiliated companies as much for as her musical contributions. But in this performance she was remarkably endearing in a low-key, droll way. "We have a new album called 'Partygoing.' It's mostly about death," she cracked at the beginning. While her vocals were understated in the way that befits the very subdued traits of her allies, she had a casual, appealing stage presence. 
Bing: More on Future Bible Heroes
Ewen and Gonson stood behind banks of electronics. But unlike Kraftwerk, who often looked like they were about to help you out with your checking account, the pair weren't afraid to appear as if they were having fun. Ewen in particular seemed both gratified and quietly amused by his station and came off as a charmer, even if we couldn't see what he was doing.
The quartet was filled out by Shirley Simms, another longtime fellow of Magnetic Fields, on ukulele and electronic autoharp, and Anthony Kaczynski, who played with Ewen in the '80s synth-pop band Figures on a Beach, on guitar and bass. Kaczynski also played the role of Stephin Merritt on vocals, capably handling the lead on "She-Devils of the Deep," "Keep Your Children in a Coma" and the cover of the Human League's "Don't You Want Me," in which he and Gonson reversed the parts on the duet. Gender-switching is a ploy Merritt likes to use, especially on the Magnetic Fields' landmark album "69 Love Songs."
While there weren't what you'd call "fireworks" in the set, the overabundance of good humor made for a nice time for all, and the quality of the songs didn't hurt. "Living, Loving, Partygoing" rolled with crisp wit. The opening song, "Losing Your Affection," snapped with sweet devotion. "I'm a Vampire," one of Future Bible Heroes' standout catalog items, was met with immediate recognition from a few in the crowd, who couldn't help laughing as Ewen recited the mid-song rap originally recorded by Gonson. There's something irresistible about a distinguished looking older gentlemen saying things like, "I am a bitch goddess from beyond your grave."
Bing: Find out what other projects Stephin Merritt is working on
Gonson concluded the regular set with "The World Is a Disco Ball," maybe the best song she gets to sing, and one that she lost herself in. And despite Merritt's absence, Gonson acknowledged his presence in the room, even playfully taking the venerated songwriter down a peg. "That song was called 'Sadder Than the Moon,'" she said after playing the tune, "in which Stephin manages to evoke both sadness and the moon."
live local music on
Enter your ZIP code to see concerts happening in your area.
Data provided by Zvents
follow msn music