George Strait's new single inspired by Sandy Hook school shootings
Singer refers to "twenty-six angels" in the poignant lyrics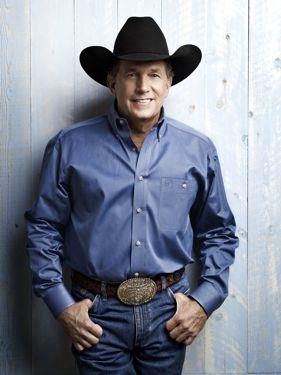 George Strait's new single, "I Believe," was inspired by last December's school shootings at Sandy Hook Elementary in Newtown, Conn., that left 20 children and six adult staff members dead. Strait wrote the song with son Bubba Strait and their frequent collaborator, songwriting legend Dean Dillon, and the country superstar calls it "a statement of faith."
"Like everybody, I was watching it on TV, the tragedy that happened in Newtown, and I'm just shaking my head," Strait says in this video message in which he discusses the story behind the song. "It's so sad, and I was thinking, 'I know what these parents are going through.' It's just the worst thing that can happen to you in your life to lose a child. There's nothing worse than that." Strait is referring to the 1986 death of his 13-year-old daughter, Jenifer, in a car accident.
As they started to write the song, Strait says, "The whole time I'm concerned about . . . because I don't know these people, and I'm concerned about offending them," he says of the Sandy Hook victims' families. "I don't want to cause them any more misery than what they're already going through."
After the song was written, Strait took it to the studio, but ended up not cutting it at first because, he says, "I was thinking I just don't know if it's the right thing to do or not." But his wife, Norma, got angry with him for not cutting it, then talked him into it. In the end, Strait says, "it turned out beautiful."
The song, whose lyrics are below, goes for airplay at country radio July 15.
The night's as clear as a big desert sky
But it's hard to see stars with these tears in my eyes
Yeah, it's hard not to cry
There's twenty-six reasons why
There's broken hearts that'll never beat the same
Shattered lives still reeling from the pain
Of plans and dreams now gone
Oh, how do you move on?
Chorus:
But I believe
There's someone who's looking after me
Someone beside me night and day
To light the way
It's hard to conceive
Something you can't see
But I believe
I believe
There's twenty-six angels looking down from above
Resting in his mercy, grace and love
Time may never heal
The sadness that we feel
Repeat Chorus
The rivers flow now that used to be dry
As people all over the world start to cry
But I believe
live local music on
Enter your ZIP code to see concerts happening in your area.
Data provided by Zvents
follow msn music