Hit & Myth: Summer's biggest hits, Thicke and Daft Punk, echo the past
Preserving the endangered art forms of falsetto and disco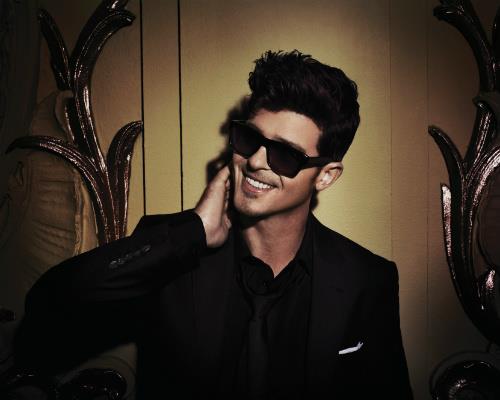 Blurred vision: Robin Thicke needs shades after straining his eyes trying to count the record radio plays for "Blurred Lines," the consensus song of the summer -- especially when you add streams, downloads and YouTube views for that video.
I'm fascinated by hits. It's a great time for that – the age of  the album is pretty much over, as people predominantly listen to and accumulate music as individual songs. And there have never been more ways for hits to appear; the traditional conduit – radio – no longer rules unchallenged.
Yet there's still no shortage of consensus hits. I crave hearing some of them, I can't stand others, and I'm indifferent toward many more. But most of all I want to understand how and why they become hits.
There are no simple answers. The cream doesn't always rise to the top; it's not a meritocracy out there. You could name a dozen songs off the top of your head that you think deserved to be massive, universally acclaimed hits, but somehow failed to do so. But it's not a Sturgeon's Law situation either – the late SF author contended that the public had incurably bad taste and 90% of everything was crap. In reality, the percentage of truly crappy hits has never been anywhere near that low*, and nowadays, whether you're talking pop, country, hip-hop, maybe even rock, there's a lot of great stuff all over the charts.
* (It should go without saying – but won't – that my definition of "crappy" will inevitably differ from yours, and percentages will accordingly vary as well.)
Also on Reverb: Colbert lashes out at Pitchfork after Daft Punk's no-show
I mentioned "the charts," and there's a lot more to say about those musical report cards, but to kick off this Hit & Myth series, I thought it would be logical to look at two undeniable hits – the two biggest hits of the summer, as decreed not only by everyone from Billboard to your elderly, stone-deaf aunt, but officially sealed and delivered by that supreme arbiter of cultural relevance, The Colbert Report, in a memorable episode last week. 
Robin Thicke's "Blurred Lines" is an obvious hit. You could tell when he premiered it on "The Voice" this spring. Combine its relentless catchiness with a controversial video and its rise was inevitable.
Lyrically it represents the most in-depth discussion of what constitutes a "good girl" since the Knack's female protagonist declared, "Good girls don't … but I do."
Musically it fits reasonably comfortably into the retro-soul trend, which Justin Timberlake gets credit for jump-starting with "Suit and Tie" (not nearly as big or brilliant a hit as "Lines") but was probably launched by Bruno Mars with his James Brown revue-styled performances. (Cee Lo Green deserves a shout-out here, too, and it may all date back to OutKast's "Hey Ya," one of the few 21st-century blockbusters as ubiquitous as the Thicke hit.)
Bing: What are the best "Blurred Lines" parodies?
But I'm fond of "Blurred Lines" for perpetuating – if sparingly -- an illustrious pop tradition: the falsetto. In the early '60s, falsettos ruled the airwaves like so many high-pitched dinosaurs. (Closely related to birds, the feathered reptiles were probably good for a cheap trill or two in their epoch.) Frankie Valli & the Four Seasons sound unearthly, and they merely topped a long list that included Del Shannon, the great Lou Christie, the Miracles and shriekers supreme the Newbeats and Dick & Dee Dee. The Bee Gees kept the helium pumping in the '70s, but the last raging falsetto hit in this tradition that I can recall is A-Ha's 1985"Take on Me." (Feel free to upbraid me  with a later example I've forgotten.)
Thicke's sporadic deployment of falsetto falls in the more-subtle style of Curtis Mayfield and Prince, where the falsetto isn't a freak-show display but a more organic part of the whole -- no less a true false proposition. Good to see it surviving.
My liking for the other Summer 2013 Super-Smash, Daft Punk's "Get Lucky," can be more succinctly put. I was immediately attracted to the irresistible guitar textures weaving constantly through the enigmatic French duo's single-entendre hit – it reminded me of the unfairly maligned disco age's best act, the thoroughly brilliant Chic. (As I eventually learned, there was a good reason for that – Chic's Nile Rodgers was weaving the "Get Lucky" guitar textures.) There's a case to be made that Rodgers was his era's Jimi Hendrix – his blend of R&B and rock styles was that potent. Bringing him back was definitely a deft move.
live local music on
Enter your ZIP code to see concerts happening in your area.
Data provided by Zvents
follow msn music