In The Pipeline: Upcoming releases from Alabama, Craig Morgan
Alabama tribute album features A-list country star guests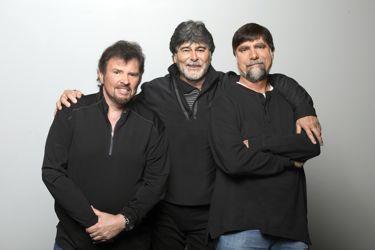 An Aug. 27 release date has been set for "Alabama & Friends," the Alabama band tribute album first reported here in April. Toby Keith's label, Show Dog Universal Music, will be issuing the project, and Keith is among a roster of A-list guest stars performing the band's best-known hits on the set.
Keith sings "She and I." Other performers on the album are Jason Aldean ("Tennessee River"), Luke Bryan ("Love in the First Degree"), Kenny Chesney ("Lady Down on Love"), Eli Young Band ("The Closer You Get"), Florida Georgia Line ("I'm in a Hurry (And Don't Know Why)"), Alabama state native Jamey Johnson ("My Home's In Alabama"), Rascal Flatts ("Old Flame") and Trisha Yearwood ("Forever's As Far As I'll Go").
"It's very much an honor that they'd take part in an Alabama tribute," the band's guitarist, Jeff Cook (pictured above on the left), says of the guest stars. "We had a lot of fun working with them, and I think the finished product testifies to both the fun and the quality that went into it."
The 11-song set will also feature Alabama's first new tracks in more than 10 years when they embarked on a farewell tour. The new tracks are titled "All American" and "That's How I Was Raised."
"Our longevity is a tribute to the hard work we did in selecting songs, because it's the songs that people remember," says Alabama bassist Teddy Gentry (pictured above on the right).
•••••
Craig Morgan has revealed details of his forthcoming hits collection, "The Journey (Livin' Hits)," set for release Sept. 3. In addition to eight of his best-known songs, the set includes four new tracks, including his current single, "Wake Up Lovin' You."
"I'm so excited about the new music," says Morgan in a press release. "You can listen to this record and join me on the journey from where I've been to where I'm headed. I think we've put together a really great album with new music that looks ahead to the future as well as some of the fan-favorite songs that speak to who I am at my core and what my fans love in my live shows."
live local music on
Enter your ZIP code to see concerts happening in your area.
Data provided by Zvents
follow msn music