Justin Bieber's Rapper Alter-Ego Returns on Maejor Ali's "Lolly"
Meet Shawty Mane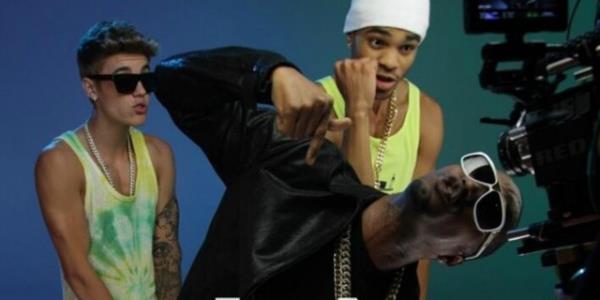 Justin Bieber's swag hasn't slowed a bit since his split from Selena Gomez. When he's not busy being
besties
with the undefeated Floyd Mayweather or getting his hands on exclusive copies of coveted
movie scripts
or hitting the
studio
with summer
anthem-extraordinair​e
Pharrell, he's fine-tuning his alter-ego, Shawty Mane, who he introduced to us
back in 2011
. Shawty Mane raps. Shawty Mane gets genuinely odd co-signs from respectable rappers like Vado. Shawty Mane has been
compared to Biggie
. And now Shawty Mane is back.
In Maejor Ali's new video for his single "Lolly" (not to be confused with music's favorite new drug, Molly, though,
le sigh
, that does indeed get a mention as well), the former producer (once known as Bei Maejor), gives listeners one hell of a 101 school lesson. There are so many things I never knew rhymed with 'lolly' which, by the way, does
not
refer to the candy pop, so see if you can crack that very thinly-veiled code. Anyway, there's 'Hibachi' and 'Papi' and 'Massage me,' it's all very informative.
Then Shawty Mane, who up until this point has only bopped his shoulders amidst a bevy of dancers in front of a candy-colored backdrop, enters and his lyrics are simple enough that, before you know it, the song has become, dare I say it, catchy: "Throwing up a G note / Like I'm at a casino / I'm all fancy, yeah / I'm popping Pellegrino."
With a sign-off from Juicy J, who's surely solidified his spot as creator of songs fit for, well,
certain
types of clubs, expect this to become a banger, too.
[Follow @daniellesaid]

live local music on
Enter your ZIP code to see concerts happening in your area.
Data provided by Zvents
follow msn music