Katy Perry comes out fighting
"Roar" single sneaked out early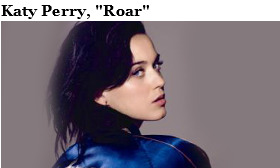 If you've been on the edge of your seat for the next chapter in the Katy Perry saga, it's here. "Roar" was due to be released today but slipped out early over the weekend, so she rush-released it herself (Lady Gaga is dealing with leakage herself).
Related: Listen to Eminem's new song "Survival"

The upshot? It's laden with cliches, with "eye of the tiger" in the chorus, and the verses start with a string of them, from "bite my tongue" to "hold my breath," and the old canard "I stood for nothing, so I fell for anything."
Related: Lady Gaga releases "Applause" to combat Internet leak

Still, she manages to make it catchy, and given her split with Russell Brand and on-again romance with John Mayer, "Roar" sounds like a declaration of independence (oops...who's writing cliches now?) post-breakup.

You can hear it below. Warning: It's an "I Heart Radio" recording, so that annoying voice pops in from time to time reminding you of that.

live local music on
Enter your ZIP code to see concerts happening in your area.
Data provided by Zvents
follow msn music