Katy Perry's uproar over "Roar"
PETA tries to get some mileage out of pop singer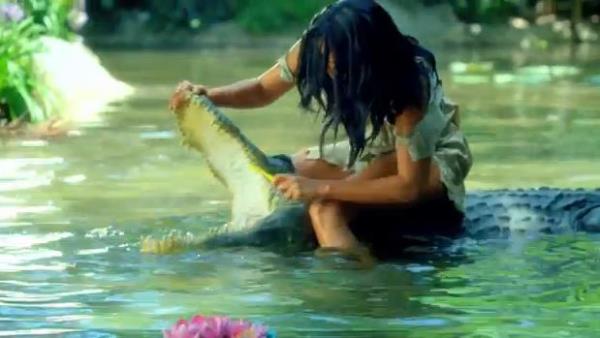 Well, we need
something
to talk about with the new
Katy Perry
video for "Roar." The song itself is unremarkable, with Perry skipping from cliche to cliche -- "I stood for nothing so I fell for everything," "I've got the eye of the tiger," etc. -- while crawling around on all fours.
So PETA - a worthy animal-protection organization but sadly as publicity hungry as any rising singer - has jumped in on the act, claiming that the video filming
"traumatized" any animals involved
, even though PETA officials weren't anywhere near the set and have no idea exactly how the animals were or weren't treated.
Perry and her
leopard-skin-swathed​
breasts star in a take-off of a Tarzan movie along with a tiger, an elephant, a monkey and a bunch of special effects (Hey, PETA, you see that picture up above? I'll bet you a million bucks she's not really brushing the teeth of a live crocodile).
Bing: Katy Perry's PETA problem
The American Humane Association, however,
was
there for the entire three-day shoot. And they released a statement telling PETA to shut the hell up (and confirmed that no actual croc was on the set):
American Humane Association was on set for the filming of the above referenced music video, which used an elephant, a monkey, birds and a tiger. After reviewing the reports, we believe that the Guidelines for the Safe Use of Animals in Filmed Media were followed and that no animal was harmed in the making of this music video.
So now you can feel free to enjoy the video without any fear of red paint being thrown on you next time you go out in public.
live local music on
Enter your ZIP code to see concerts happening in your area.
Data provided by Zvents
follow msn music