Legends of the Summer: Jay Z and Justin Timberlake's Yankee Stadium grand slam
This year's chart titans link up for a blockbuster tour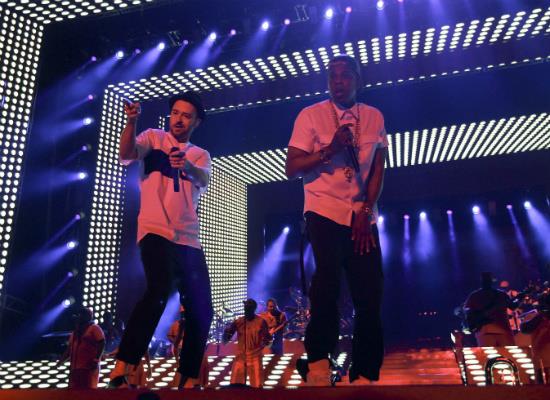 By Kathy Iandoli
Special to MSN Music
NEW YORK -- The reality is that both Jay Z and Justin Timberlake have fought hard to be where they are today. For Jay, it was a matter of translating his coke rap beginnings into something the general public could digest (and not fear). For JT, it involved shedding his post-Mickey Mouse Club, boy band skin to reveal a star capable of moving audiences over the age of 13. The two artists have fundamentally different backgrounds, but both have a similar sentiment to celebrate: success. That is what made their July 19 co-headlining show as the Legends of the Summer tour – the first of two concerts at Yankees Stadium – so impressive. With their new albums reigning as the year's two biggest first week sales hits, neither had too big of an ego, so the show was a collaborative success, complete with choreography, special guests, and a gigantic catalog of hits.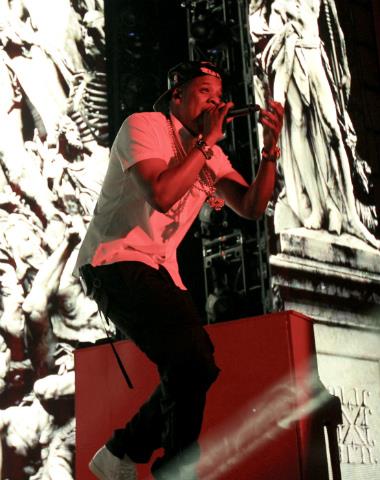 Titling a tour with the word "legends" is pretty bold, but neither Jay Z nor Justin Timberlake questions his reach at this point. In March of this year, Timberlake dropped "The 20/20 Experience" and this month Jay Z delivered the Samsung-fueled "Magna Carta Holy Grail." Both releases came with a sturdy marketing push, yet surprisingly weren't the focal point of the evening outside of the very beginning. The stage was dressed in silkscreens of Greco-Roman statues (the cover art for "Magna Carta") accented with red lights, as the heavy keys of "Holy Grail" introduced Justin's big vocals at the start of the song. Jay Z slid in to do his thing, and for the duration of the evening it became a volleying of careers with tons of overlap. Justin sang Pharrell Williams' lines on Jay's "I Just Wanna Love U (Give It 2 Me)," masterfully played the guitar for "You Don't Know" and "99 Problems" (while taking the double duty of playing the cop in the song), along with playing the keys on his own songs like "Señorita" and "Rock Your Body."
Groove: Jay Z's app under FTC investigation | Jay Z's career gets audited by New York magazine
For a moment it did feel like Timberlake was playing Keith Richards to Jay Z's Mick Jagger, but that diminished throughout the night once JT had a more solid segment to bring noteworthy selections from 2006's "FutureSex/LoveSound​" (almost every song on that record is a hit) along with accents of "20/20," including "Mirrors." Jay Z's work spanned his whole career from the super-poppy "Big Pimpin" to the ear-crushing "Public Service Announcement." Of course, his portion was slightly modified to fit the mainstream demographic (particularly with the absence of the N-word), but for the most part the compromising was limited, even when Justin arrived with choreographed dancers.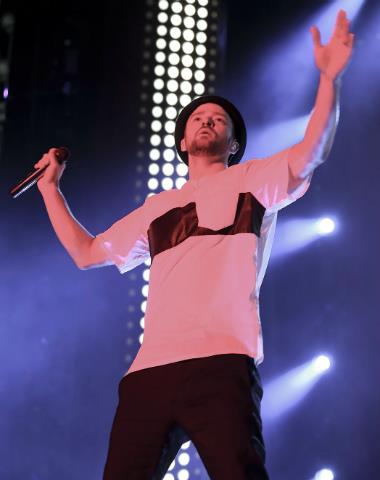 Special guests were limited – Timbaland arrived for "SexyBack" – but a cameo from Alicia Keys for "Empire State of Mind" had the New York crowd in mass hysteria (especially given the venue). Justin opened the song with Frank Sinatra's "New York, New York" and closed the song with the famous bridge "If I can make it there, I can make it anywhere." The concert was a true partnership, from two superstars who look like they've been best friends for years.
MSN Music: Seeing 20/20: Justin Timberlake in focus
As the two raised flutes of champagne to perform "Suit & Tie" (in suits of course), they were inadvertently toasting an already successful tour. Jay-Z has had hits and misses sharing stages with other acts. The ill-fated Best of Both Worlds tour with R. Kelly proved that even a collaborative album couldn't keep it together, The Home & Home tour with Eminem felt like two separate performances under one invisible stadium roof and the Watch the Throne tour frequently fell victim to Kanye West's competitive streak. As for Timberlake, well, he left an entire band ('NSync) behind to be alone.
Groove: Who is JT's new duet partner? | Justin Timberlake's sexy new video is all nudity and naughtiness
This evening felt different. Once the closer "Young Forever" hit, Justin sang the hook (sounding more Sting than Mr. Hudson) and the two dedicated the song to the memory of Trayvon Martin. It's not every day that two superstars can share a stage in a 50,000-plus venue without it feeling seemingly lopsided, but Jay Z and Justin Timberlake pulled it off.
What's next? An album, perhaps. The sky is the limit with these two.
Photos by Alex Urosevic/AP
Are you sure you want to delete this comment?
live local music on
Enter your ZIP code to see concerts happening in your area.
Data provided by Zvents
follow msn music