Live among the dead: The National play Hollywood Forever Cemetery
Moody setting, compositions tempered by band's levity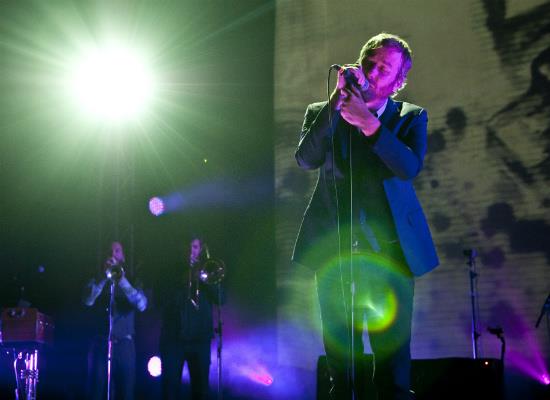 By Robert Spuhler
Special to MSN Music
LOS ANGELES – It was an event not lost on the members of Brooklyn quintet the National, known for their dark lyrical content and moody compositions: The second of their two Los Angeles shows took place in a cemetery.
"This song is apropos of our location," guitarist Aaron Dessner said, as an introduction to "Anyone's Ghost."
"Most of them are," lead singer Matt Berninger deadpanned.
Could it be that the band members, on a temporary stage at the Hollywood Forever Cemetery in Los Angeles, had found a place where they could lighten up? For the second night of their weekend stay in Southern California, the National put together a set worth of highlights from their latest album alongside favorites from previous works to close out this leg of their North American tour.
Rounded out by two additional hands to take keyboard and brass duties, the band of brothers (Dessner's brother Bryce also plays guitar, while the rhythm section is manned by brothers Bryan and Scott Devendorf) opened up with two tracks from their 2013 release "Trouble Will Find Me." The May-debuting album, which was somewhat lost in the hype surrounding Daft Punk and Kanye West, got the starring role in the set list, with 10 of its 13 songs performed on the night.
MSN Music interview: The National

But it was on "Sea of Love," the set's fifth song, that the National began to pick up intensity, with lead singer Berninger rocking back and forth with the mic stand. He is an unlikely frontman in the current music landscape: His baritone voice stands out among the boyish sounds of the indie scene, his stage dress is professorial and he seems much more content to sip from his stemmed glass of wine in front of the drum kit than to try to "hype up" the audience. At his most energetic, like on "Squalor Victoria," he paces upstage like a madman, appearing to talk to himself.
That the songs from "Trouble Will Find Me" fit in so well with the National's back catalog should not be a surprise. The band's sound has remained remarkably consistent, especially since 2007's "Boxer," considered one of its decade's best albums. Some see this as a drawback, a sign that the group is not evolving and has run out of ideas. But on nights like this one, it seems much more positive. If one can consistently make albums that attract a rabid fan base and the adoration of music lovers playing a certain way, wouldn't one work on perfecting that form?
Those similar ideas were on display throughout the evening, whether it was Berninger wading into the crowd to sing "Mr. November," a move that is practically tradition at the National shows, or finding community with the audience from the stage as the full band went acoustic (and microphone-less) for a closing sing-along of "Vanderlyle Crybaby Geeks." Getting a capacity crowd that has been drinking for a couple of hours (the cemetery allows guests to bring their own alcohol – and those guests quite often take advantage) to shout out, "Live alone/Eat your cake/Vanderlyle, crybaby, cry," takes a band that is not only comfortable in its own skin (and with its own pain), but has attracted like-minded people to its cause.
Bing: Find National tour dates
"It's a very dead crowd out there," Berninger punned early in the evening, though he quickly added, "It took me a half an hour to write that joke. … Terrible."
Even when kidding around, the National have a touch of sadness.
Daughter opened the evening with a set of songs that, in a live setting, took on a much more aggressive tone than on their debut disc, to the point of conjuring visions of a shoegaze band fronted by Beth Orton. Though lead signer Elena Tonra's stage persona could best be described as "wallflower," once the guitars kicked in on many of the tracks, the intensity almost matched that of the headliners.
The National set list
I Should Live in Salt
Don't Swallow the Cap
Anyone's Ghost
Mistaken for Strangers
Sea of Love
Demons
Afraid of Everyone
Conversation 16
Squalor Victoria
I Need My Girl
This Is the Last Time
Heavenfaced
All the Wine
Abel
Bloodbuzz Ohio
Slow Show
Pink Rabbits
Graceless
England
Humiliation
Fake Empire
About Today
Mr. November
Terrible Love
Vanderlyle Crybaby Geeks
live local music on
Enter your ZIP code to see concerts happening in your area.
Data provided by Zvents
follow msn music