Lorde bewitches Los Angeles with sarcasm-spiked pop
New Zealand prodigy makes mark far from home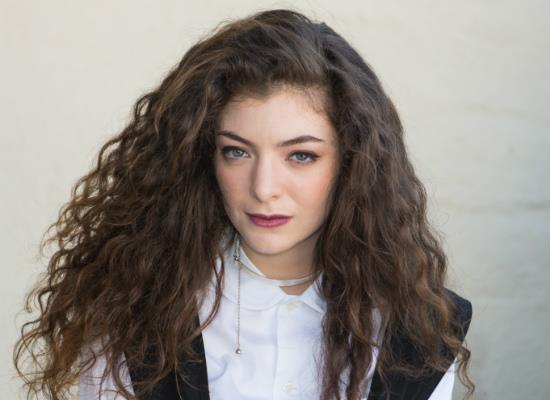 By Danielle Cheesman
Special to MSN Music

LOS ANGELES – I don't know if it was Lorde's shapeless black maxi dress, the mop of curly hair that cloaked her face more often than it didn't, or her habit of (maybe intentionally) staying directly in the shadows of the stage and out of its spotlights streams, but when one watches the wunderkind perform, you feel as if you're intruding, barging in on a sorceress standing over her witches brew, because for every hard-hitting kick drum or scattering synth, Lorde's shoulders, hands, and head feel it internally and flinch in rhythm, almost involuntarily. And if the way the crowd watched her, unblinking and in awe, is any indication, it was no different than being cast a spell upon.

Her performance at Los Angeles' Fonda Theater began with "Bravado," the ominous opener from her "The Love Club" EP on which Lorde's vocals are backed only by scarce chords before a churchly chant pipes up. The exceedingly minimal "Biting Down" followed, and, as it's largely driven by her huskily repeating the titular phrase, it was trancey and hypnotic until there was the sudden outburst of a rattly drum riff. And though the next tune, "Glory and Gore," sounded, at face value, equally dark and dreary, that isn't Lorde's M.O. Her voice is tonally embracive, not abrasive. And her lyrics are the pop stuff Taylor Swift is made of — if T. Swift employed a bit of mockery and sarcastic wit: "You've been drinking like the world was gonna end (it didn't)/Took a shiner from the fist of your best friend (go figure)." Before you knew it, there was an echoing and empowering "Oh, oh!" that followed each line of the song's chorus.

"Tennis Court," the lead single off her upcoming debut album, "Pure Heroine," came next, its faucet-dripping pings and pitch-shifted "Yeah!" still intact, before the island-lite sounds of new track "Buzzcut Season" (which cheekily begins with her singing, with full affection, "I remember when your head caught flame") began to sound and its tribal drums acted as if they were racing against time. 

MSN Music: Lorde and more rising stars to watch for this fall

 Lorde rarely took a moment to speak anything but lyrics, but she stopped for a moment: "I know it's hard going to a show where you only know, like, four songs but I appreciate it." A uniquely impressive cover of the Replacements' "Swingin' Party" followed, its original breezy guitar replaced with ascending organs, but one of Lorde's admitted "favorites" was "Ribs," on which muffled synths mimicked that of an old-timey quartet's harmonizing and its heartbeat-like pace was interrupted only by a thundering drum.

After a brief cover of Kanye West's "Can't Hold My Liquor" — and an admission ("I feel embarrassed I rapped in front of you") — each lyric of "White Teeth Teens" ended with an ethereal extension while its chorus called for a marching band-like rat-a-tat. And after being disappointed in the crowd's initial excitement ("You gotta do more than that!"), Lorde performed her No. 1 hit, the radio-friendly "Royals," which was followed by the churning siren intro of "400 Lux" and its percussive woodblock tap.

"I've got one more," Lorde revealed before her closer, "A World Alone." "I'm not gonna deceive you; there's no encore," she said. But the former half of her confession spoke much to her artistry, as well, because Lorde isn't an impostor. She's not sugarcoating her songs as cutesy teenage tales to appease the mainstream masterminds. After all, at 16 years old herself, the lyrics to "World" are a parent's nightmare: "I feel grown up with you in your car, I know it's dumb" and "We're biting our nails, you're biting my lip, I'm biting my tongue." Lorde's creating a sound all her own that while alternative is still surprisingly accessible.
live local music on
Enter your ZIP code to see concerts happening in your area.
Data provided by Zvents
follow msn music