Michael Jackson and Justin Bieber's 'Slave 2 The Rhythm' gets yanked from the web
The new song leaks with the late King Of Pop featuring Canada's teen bad boy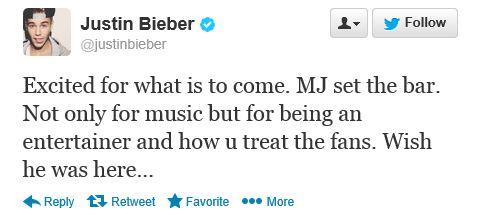 By Kathy Iandoli
Special to MSN Music
Prior to Michael Jackson's passing in June 2009, a track was recorded that never surfaced. Until now. "Slave 2 The Rhythm," Michael Jackson's posthumous new track, leaked online this past weekend featuring surprising guest vocals by none other than Justin Bieber.
On Friday evening [Aug. 16th], Biebs tweeted "Excited for what is to come. MJ set the bar. Not only for music but for being an entertainer and how u treat the fans. Wish he was here..." shortly before the song leaked online. The song is finally here, and while Justin attempts to sing in the late pop icon's cadence, it's still a nice little tribute to Michael. With stuttering drums, house-style synths and hand claps that erupt into dubstep, "Slave 2 The Rhythm" sounds like it could more be a Chris Brown track than a song by either pop star. And correct us if we're mistaken, but MJ's verse is about a stripper. Hey, anyone can be a slave to the rhythm right?
Where this track will ultimately end up remains to be seen, but you can check it out and play a guessing game in a few parts about which singer is singing which part. Good times.
UPDATE: According to Billboard, the song has been yanked from the Internet due to a copyright claim by Sony. This means the song is legit but there is no telling when, or if, it will resurface.
Are you sure you want to delete this comment?
live local music on
Enter your ZIP code to see concerts happening in your area.
Data provided by Zvents
follow msn music