New band alert: Clouds Collide
Impressive debut album combines iciness and warmth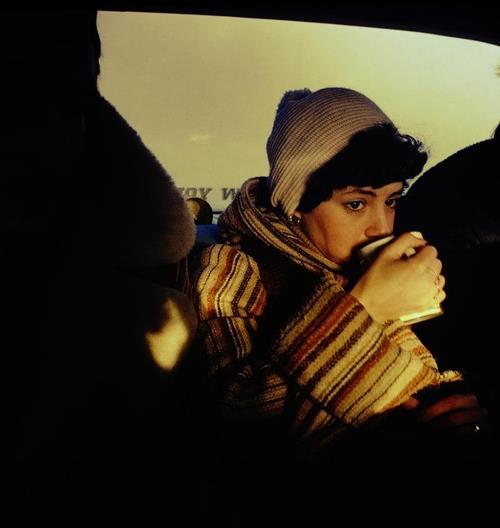 I first came into contact with Pennsylvania musician Chris Pandolfo a couple years ago, strictly through mutual admiration of Alcest and other "metalgaze" bands of that ilk. Over that time, I've also been watching his own musical project Clouds Collide slowly evolve, and after a long period spent working on it in his spare time, the beautiful debut album "Until the Wind Stops Blowing" is officially out in physical format right now.
A combination of lo-fi, one-man black metal, the swift, blastbeat driven crescendos of Agalloch, and the aching beauty of Alcest, it's an emotionally raw album that, for all its despair – it was written in tribute to his late mother – leaves the listener with a sense of hope at the end. "Until the Wind Stops Blowing" has been released in a gorgeous CD package by Khrysanthoney Records, which you can order here. You can also stream the album below via Bandcamp, and purchase a digital copy of the album.
Earlier this year I caught up with Pandolfo, and we chatted about Clouds Collide, the new album, and where he sees his musical direction going next.
How did this project come into being?
Chris Pandolfo: About 4 years ago I had been writing a lot of music under a band name Depths, which was like dreamy post metal. Things fell through a bit with close friends who were attempting to help me make a CD come true and I was basically stripping the members in the band of all their creativity. I hated doing that. It was around this point where the combination of my influences and my vision were starting to lean toward shoegaze with a hint of black metal in it and I realized I needed to do everything myself. At this point in time 4 years ago I had no idea 'blackgaze' was even a thing let alone an upcoming movement of awesome music.
What artists have inspired you to explore this musical hybrid?
Around the time I was developing melodies and structures in my head the big bands that were sticking out to me were Slowdive, Agalloch, Alcest, and Rosetta.
What is it about this side of black metal that draws you to it?
 I think it's a lot of things really. Growing up I used to hate anything that didn't have a really polished production and as I began listening to more and more black metal bands I slowly fell in love with the atmosphere and the lo-fi approach. I also was drawn to the overwhelming emotion behind the music and the vocals. It all seemed to fit what I was trying to say emotionally, lyrically, and musically. This style of black metal really caters to nostalgia, which is essentially what all my music will be about, and I'm sure a lot of other artists in this genre can agree with that.
This album is clearly deeply personal. What was the idea behind dedicating this album to your late mother?
A bit of both catharsis and therapy I guess you can say. When I write music I tend to think of her and that appears in the lyrics. This particular album is kind of the 'winter' album and I reflect on how winter affects my nostalgia and well being in a negative way. Although the lyrics in future songs will SOUND more healing, the recording process and finally making this album happen was definitely medicinal.
What's the significance of the Terrence Malick samples you use? I hear the narration from "Days of Heaven" at one point.
 Not to sound like the huge Malick fanboy that I am, Malick's films and ideas within the film simply inspire me if it's what he's saying visually or what the characters thoughts are during the film. 'Days of Heaven' and 'Badlands' really hit me on a nostalgic level that his other movies can't do...while watching 'Days of Heaven' that particular line in the film really made me think about a big theme on this record that something as simple as a wind blowing passed somebody can make them feel so many different things. 'The Way the Wind Blew' lyrically is kind of the culmination of all these simple and at times not so simple things in my life that I experience that throws me into a whirlwind of nostalgia with particular memories. I get that feeling with a lot of characters in Malick's films with their longing dialogue, especially those in 'Days of Heaven' so having that quote open the song is very fitting for me.
This form of music tends to dwell in melancholy, yet there seems to be a feeling of hope creeping in. Was that your intent?
 For "Deathless", absolutely. The great thing about hope and despair in musical format though is that it's truly subjective. My buddy Jared who helped me master the album told me he thought "Deathless" was one of the saddest things he's ever heard and I laughed because it was intended to be that ray of hope!
Many will say that the second a hint of positivity creeps into the music, it ceases to be black metal. How important is it that black metal expand its musical breadth and move beyond the corpsepaint and Satanic gimmicks?
I think it's very important because with the help of black metal and shoegaze you can combine tools that you can use to truly create something beautiful and dense at the same time rather than being stuck with only hatred and evil. To me there's a lot of beauty in general with even the archetypical black metal and I think a lot of artists can relate to that. There is nothing wrong with using that influence and combining it with something other than burning churches [laughs].
Is Clouds Collide strictly a solo studio project, or do you ever see yourself forming a band?
I've actually very recently had friends approach me about forming even just a live band to do a show or two. I just don't think it's possible but you never know. I prefer to just be a solo act for writing and releasing records though.
In what directions do you see your music evolving next?
I actually have the entire next album written and ready to record. I'm finishing up two tracks for a Sleeping Peonies spit on Khrysanthoney and then will hopefully begin recording LP2 shortly after. The split songs will be kind of a tug of war between the sound on "Until the Wind Stops Blowing"and my next album, which is going to embrace a much warmer sound. You can say that if this record is the 'Winter' album, the next album will be the 'Spring' edition of Clouds Collide.
live local music on
Enter your ZIP code to see concerts happening in your area.
Data provided by Zvents
follow msn music