Robert Plant gets the Led out
The British rock veteran's Sensational Space Shifters live up to their name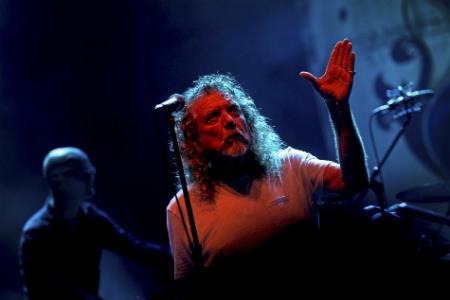 By Sam Sutherland
MSN Music
WOODINVILLE, Wash. – Classic-rock prayers are coming true for die-hard Led Zeppelin fans in the triumphant current tour for Robert Plant and the Sensational Space Shifters, which finds the once and future "golden god" revisiting his legacy as the voice of Led Zeppelin. In the ninth stop on their current North American tour, Plant and his six bandmates galvanized an alfresco audience at the Chateau Ste. Michelle Winery in this Seattle suburb with an exhilarating July 6 set that reanimated a generous set of Led Zep classics, mingling faithful recreation with canny reinvention.
Plant, at 64, has carved out a solo career laudable for his readiness to shrug off that storied past to explore more disparate, and frequently prescient, musical influences, insisting on creating in the present instead of leaning on his past. After more than three decades, his post-Zeppelin profile has outlived his old band's 12-year run as the British singer, songwriter and eternal fan has journeyed from African music to traditional English folk music, early rhythm & blues to '60s psychedelia, with taste and intelligence. His recent forays into American country, blues and Appalachian folk roots with Alison Krauss and his own subsequent Band of Joy project find Plant at a critical and commercial peak that ironically has helped define Americana, and clinch his clear-eyed refusal to fall back on old tricks.
It's that very distance between Led Zep's fabled roar and the sound of Plant's recent projects that gives the Space Shifters, unveiled at the 2012 WOMAD Festival in Wiltshire, England, added impact. Taking the Chateau stage after three opening acts, and playfully promising "a night of soft rock and REO Speedwagon covers," Plant led the band into a classic cover of a different stripe, "Babe I'm Gonna Leave You," retooled from Joan Baez's early '60s folk ballad into a highlight from Led Zeppelin's 1968 debut album. As a point of intersection with the American folk roots displayed on his more recent projects, it provided a powerful point of entry into the Space Shifters' tool kit of rock, folk, world music and electronica accents.
Bing: More on Led Zeppelin | Is the Led Zeppeling shark rumor real?
Plant has underscored the new band's largely British origins and its particular connection to Bristol's trip-hop provenance through Massive Attack's John Baggott, whose keyboards and loops combine with the guitars of Justin Adams and Liam "Skin" Tyson and with the traditional African stringed instruments of Juldeh Camara, a West African griot and master musician who switched between riti, a one-stringed African fiddle; kologo, an ancestor of the banjo; and talking drums. A powerful rhythm section of drummer Dave Smith and bassist Billy Fuller anchored the band as it powered through familiar Zeppelin and Plant solo songs as well as superb versions of Howlin' Wolf's "Spoonful" and Bukka White's harrowing "Fixin' to Die."   
Their collective power made good on Plant's recent remarks about bringing back the "big voice" that propelled his early rock triumphs: However mesmerizing his 2008 live shows with Alison Krauss might have been, there were also moments onstage when his restraint suggested a Ferrari rumbling in low-gear through a school zone. With this band, he's able to hit full throttle in a set that was also noteworthy for terrific pacing, moving from the opener's brooding dynamics to the floating reverie of "In the Mood" (from Plant's solo "The Principle of the Moment"), and later interpolating "Fixin' to Die" within a sultry reading of "What Is and What Should Never Be" from "Led Zeppelin II." A pristine reading of the familiar acoustic arrangement to "Going to California" brought sighs of recognition; "Black Dog" was transported to West Africa, bringing the audience along for the journey.
By the evening's close, capped by an encore of the traditional "Satan Your Kingdom Must Come Down," recorded with Band of Joy and an inevitable and welcome Zep finale, "Rock and Roll," Plant and the Space Shifters had satisfied his oldest fans while delighting listeners more engaged with his 21st-century work. At a venue where picnics and wine can invite horizontal enjoyment of the entertainment, it's worth noting that the audience remained standing from the set opener through the final chords of the encore.
Such an outcome was particularly satisfying after a five-hour program that had been triaged from the canceled JamBase Festival where all four acts had been schedule to perform at the scenic Gorge in George, Wash. That festival's emphasis on jam bands yielded a lineup atypical of the Chateau's more mainstream fare: Bruce Hornsby and his Noisemakers and Railroad Earth were billed below the headliner, and an unscheduled fourth act, Matt Andersen, opened the show to the surprise and brief confusion of the audience.
 Bing: More on Bruce Hornsby | Check out Railroad Earth's music
Andersen, a burly singer and acoustic guitarist whose shoulder-length hair and beard harkened back a half-century, earned a hearty response after a brief set of originals that were warmed by his earnest presentation and solid if unspectacular musicianship. 
Hornsby's sextet, by contrast, displayed technical power consistent with a decade of live shows and their leader's virtuosic keyboard technique, with the singer, songwriter and pianist leading as closely from his bench as Count Basie or Duke Ellington would in a past era. Yet the Noisemakers' nine-song set was as emotionally uninvolving as it was technically precise; even Hornsby's signature hit, "The Way It Is," was presented with a rote vocal and discordant keyboard interjections to its haunting intro that sapped it of the thematic power it should bring.
Railroad Earth, a perennial favorite among jam band aficionados, has built its ensemble sound by combining largely acoustic instrumentation with fillips of Celtic, jazz and rock elements in a synthesis that 30 years ago would have been termed "new acoustic" and today might be repatriated into Americana. However laudable their musicianship, the band's material, designed more for instrumental interplay than emotional impact, sparked an enthusiastic response from a cohort of fans outnumbered by the rest of the evening's audience.
Set list:
Babe, I'm Gonna Leave You
In the Mood
Tin Pan Valley
Spoonful
Black Dog
Another Tribe
Going to California
The Enchanter
Freedom Fries
What Is and What Should Never Be
Fixin' to Die
Whole Lotta Love
Encore:
Satan Your Kingdom Must Come Down
Rock and Roll
---
live local music on
Enter your ZIP code to see concerts happening in your area.
Data provided by Zvents
follow msn music