Solange Takes Her Moves to the Mall for "Lovers in the Parking Lot"
It's simple, yet stunning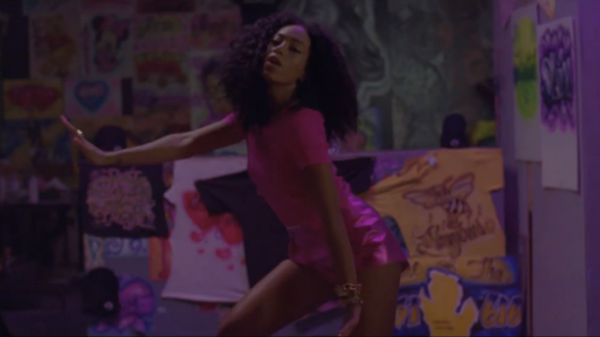 Solange may have
cancelled
more than half of her summer tour much to her fans' disappointment, but if it meant her delivering more of these trademark
candy-coated visuals
, then so be it.
In the clip for
"Lovers in the Parking Lot,"
on which she employs her falsetto over a twinkling piano and electro throbs before teasing the object of her fickle affection ("Played around with your heart / Now I'm playing around in the dark"), Solo returns to her hometwon of Houston to dance, well, solo around a vendor-filled marketplace.
In front of walls filled with wig busts and hair products, steely rims and steering wheels, arcade games and airbrush portraits, Solange (with a handful of shiny and glowing costume changes) makes her way through the building with moves that seem to be inspired by everything: Charlie's Angels and Kid n' Play, Michael Jackson and Madonna's Voguing, Broadway and ballet.
Leave it to Solange's ever-charismatic self to get Mannie Fresh and Bun B, who make cameos, to dance along, too. Watch below and I dare you to not be captivated.
[Follow @daniellesaid]
live local music on
Enter your ZIP code to see concerts happening in your area.
Data provided by Zvents
follow msn music