Stone Temple Pilots to release 5-track EP with new leader singer Chester Bennington
Does this mean Scott Weiland has beef with Linkin Park?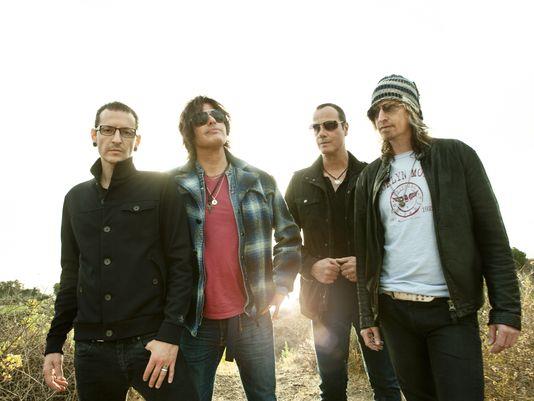 In February, Stone Temple Pilots staged a coup against frontman Scott Weiland and swapped him out for Linkin Park alum Chester Bennington. Now, the new band called "Stone Temple Pilots with Chester Bennington" will release an EP titled "High Rise" along with a mini-tour.
The switch in lead singers produced a whole other series of events that left the stage and entered the court room. In May, the remaining members of
Stone Temple Pilots sued Scott Weiland
for exploiting the band name for his own solo gains and being an all around flaky frontman to begin with.
Weiland then countersued
, stating he should've never been expelled from the band and since he is, then they can't operate as "Stone Temple Pilots" (hence the change in the name). That clearly didn't keep the band down.
On September 4th, Stone Temple Pilots with Chester Bennington will begin a small tour starting in Bethlehem, Pennsylvania. Then a month later on October 8th, the new band will deliver a 5-track EP titled "High Rise," including the lead single "Out Of Time," which is already a Billboard chart-topping darling. From the looks of it, this lineup has some staying power, as Bennington
has no plans to depart
from his new group. They say success is the best revenge, so is it safe to say STP + CB have achieved an adequate amount of vengeance yet?
live local music on
Enter your ZIP code to see concerts happening in your area.
Data provided by Zvents
follow msn music