Sub Pop's Silver Jubilee indulges in grunge nostalgia, bacchanalian atmosphere
A perfect day for a back-patting party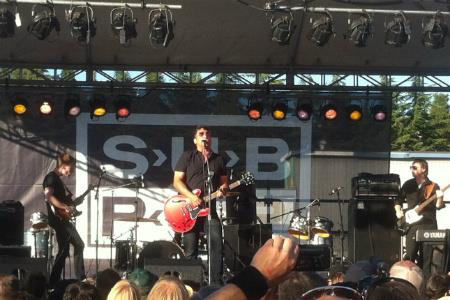 By Jonathan Zwickel
Special to MSN Music
SEATTLE – Two things Seattle does really well are self-loathing and self-congratulation.​ In accordance with its "progressive" reputation, the local populace will indulge any opportunity to hand-wring and browbeat over perceived social faux pas and PC blunders. This tendency, for better or worse, is integral to Seattle's DNA.
Thankfully, so is its opposite, because when Seattle does right, it has no shame in slapping its own back. As the most literate, introspective city in America (it's a fact!), we're especially adept at commemorating auspicious occasions. And of all our cultural institutions, Sub Pop Records — the label built by self-described "losers" intent on "world domination;" the label that gave the world Mudhoney and Soundgarden and Nirvana and the Shins and Fleet Foxes — best embodies Seattle's unique brand of passive-aggressive narcissism. Which is why Saturday's Silver Jubilee, a free, daylong celebration of Sub Pop's 25th anniversary, so joyfully embodied Seattle's true nature.
Bing: Watch Mudhoney perform on top of the Space Needle for Sub Pop's 25th anniversary
The size, scope and bacchanalian atmosphere of last weekend's event speak to the clout that Sub Pop wields in these parts. The party overran the entire commercial corridor of Georgetown, an offbeat, artist-friendly neighborhood a couple miles south of downtown Seattle. Ten blocks were blocked off to car traffic, allowing throngs of fest-goers to roam the streets freely. The many bars, restaurants, cafes and shops of Georgetown were teeming with customers. Two sprawling beer gardens were packed to the chain-link fences with people drinking locally brewed beers, but just as many people brown-bagged PBR tallboys amid the crowd. Marijuana, recently legalized for private possession but not public consumption, was smoked openly.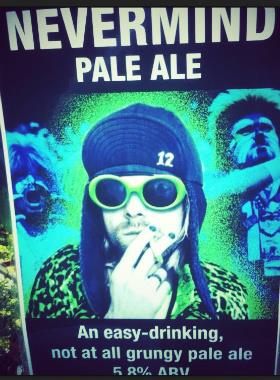 These blatant indulgences say a lot about the over-the-top vibrancy of the Jubilee. In Seattle, public drinking and smoking are often socially spurned and eradicated by the police. On this day, not only were they allowed, they seemed encouraged. People were ready to party and the city was gonna let them.
Couple all that with impeccable summer weather and a slew of Sub Pop favorites past and present playing on three outdoor stages constructed in empty parking lots and the result was an unforgettably perfect day in Seattle.
Ironically, it began with a book reading, albeit a grunge-worthy one. Danny Bland was a well-known Seattle scenester in the late '80s and early '90s, road manager by profession and unrepentant drug addict for fun. His first novel, "In Case We Die," is a smack-addled litany of bad decisions dressed up as a work of fiction, and it's being released by Seattle publishing house Fantagraphics Books. Early in the afternoon, the Fantagraphics retail space and art gallery in Georgetown hosted Bland and friend Greg Dulli, better known as the singer of the Afghan Whigs. Bland read a passage about the first time the book's main character and his teenaged girlfriend shoot up — a degenerate scene redolent of hindsight romanticizing. Packed inside the bookstore, the audience roared approval. Only in Seattle.
Much of the day was framed by grunge nostalgia, even when it didn't necessarily apply. For instance, headliners Built to Spill haven't released material on Sub Pop in decades, nor have they played a downtuned chord in their 20-year-long career. And yet on this day, their accelerated, noodle-friendly guitar rock sounded especially heavy, thumping and dark coming from the main stage. This is a band not known for charisma, which worked in their favor, because probably 70 percent of the several thousand gathered to watch them couldn't see the band.
Reverb: Celebrating 25 years of Sub Pop
(This was a street festival, after all, and there weren't a lot of good vantage points for watching music. Which made the socializing that much more important. Many people described the day's "reunion" kind of atmosphere. Among the maybe 10,000 in attendance, Sub Pop's founders, dozens of staffers and artists and various hangers-on past and present, and loads of Northwest artists and musicians of every stripe were present and roaming. A vinyl marketplace brought out every label from the city to sell their wares alongside Sub Pop stuff. Late in the afternoon, Mayor Mike McGinn showed up with his bike. It was an all-inclusive affair.)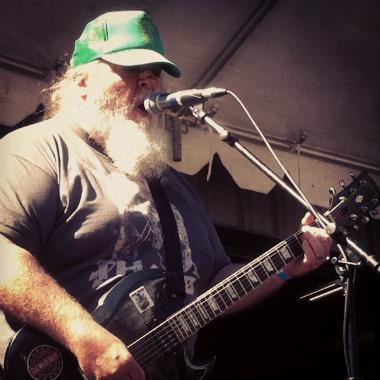 Another for instance: Mudhoney, the original purveyors of grunge, the very originators of the term, according to some accounts. Earlier in the week, they played a set for the entire western hemisphere on top of the Space Needle, 60 stories up, vertiginously surrounded by nothing but open air and passing airplanes. As the band that gets propped up as the only genuine grunge article, they also played right before Built to Spill on the main stage. The position they're given is well-earned and entirely justified: Even at 50 years old, singer Mark Arm makes dangerous look fun. They put on a rock 'n' roll clinic, like they always do.
Other bands, like Vermont's King Tuff, Allentown, Penn.'s Pissed Jeans and Canada's Metz, brilliantly illustrated the next generation's take on the grunge ethos: taking joy in a certain nihilist brutality. If you don't know these bands, look them up now.
Then there were the bands that dwell beyond grunge's purview, the ones that demonstrate Sub Pop's A&R savvy and devotion to excellent music no matter the variety. Shabazz Palaces are the best example of these; their set on one of the smaller stages delivered Afro-futurist hip-hop to an adoring crowd. Canadian singer-songwriter Chad VanGaalen started off solo and plaintive and ended propulsive and angsty. SoCal jangle-pop entertainer Father John Misty was so meta he made smashing his acoustic guitar seem like an act of irony as much as theater.
Which, of course, evokes that aforementioned cultural anxiety: Shouldn't we be over the likes of Tad and Jack Endino by now? Can't we respectfully allow their place in history to remain there, rather than prop them up alongside electrifying, Sub Pop-signed genre-benders and young bloods? Looking back on Sub Pop's 25th anniversary, you have to ask, "Is that all there is?"
It's a complicated question that we'll save for the rest of the year. Because for one day, all questions were irrelevant in the face of hometown pride, genuine camaraderie and very loud music. Congratulations, Sub Pop! Here's to 25 more, Sub Pop.
Photos: (Top) Greg Dulli of the Afghan Whigs. (Right) A Nirvana-themed beer for sale in one of the beer gardens. (Left) Tad Doyle of the bands Brothers of the Sonic Cloth and TAD. Photos by Travis Hay
Are you sure you want to delete this comment?
live local music on
Enter your ZIP code to see concerts happening in your area.
Data provided by Zvents
follow msn music