Taylor Swift: A star who is completely in charge in L.A.
Her charm wins over the crowd despite the Red tour's manufactured feel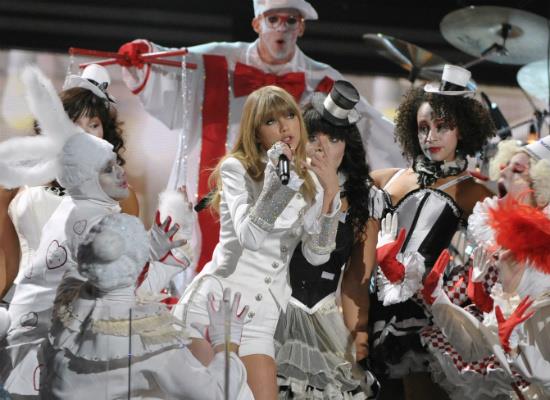 By Melinda Newman
Special  to MSN Music
LOS ANGELES—No less an institution than the New York Times has declared Taylor Swift "the most important pop star of the last decade," and while it's difficult to not at least raise a feeble defense for Lady Gaga, you'd be hard pressed to find anyone in the adoring audience for Swift's first of four sold-out concerts at Staples Center who would disagree.
The show was pop entertainment of the absolute highest order, carried out with the clinical precision of an organ transplant. The production, based around the "Red" theme of her current multi-platinum album, impressively transported Swift to all corners of the 15,000-seat arena via hydraulic lifts and raised rotating stage planks, and even to the rafters, as a lighted-up, flying bucket carried her from one end of the venue to the other high above the audience's collective heads. It was an impressive display that left no room for one iota of spontaneity.
Other than during the now obligatory acoustic set performed by almost all artists to prove they really can sing (more about that later), each of Swift's tunes existed as its own very elaborate production number.
Bing: Find out when Taylor Swift's Red tour is coming to your city
The dubstep-influenced "I Knew You Were Trouble" transformed from the post-rave setting in the song's music video to a lavish masquerade ball complete with candelabras and fancy 17th century evening gowns. Dressed in a sparkly red short dress and elbow-length gloves and surrounded by her quartet of very strong back-up singers, Swift refashioned "You Belong with Me" into a '60s girl group number. She traveled back to Hollywood's golden age for "The Lucky One," introduced by a black and white movie reel featuring her as a glamorous starlet, her voiceover ruminating on how "no one tells you how lonely it's going to be" when fame hits and how people "build you up to tear you down," before our plucky heroine added, "but they haven't yet!"
Swift has won over her legion of fans with her confessional songs and while she may not be the strongest singer or dancer, she is an exceptional communicator.  Years and mega-millions later, she is still able to tap into the lacerating hurt that comes from not getting invited to a party attended by all the popular kids or being laughed at in school. Some of her introductions may have gone over her youngest fans' heads —she talked about low self-esteem and meanness being part of the human condition during her intro to "Mean"— but her ability to conjure up her adolescent angst keeps her imminently relatable to her main constituency of pre-teen and teenage girls.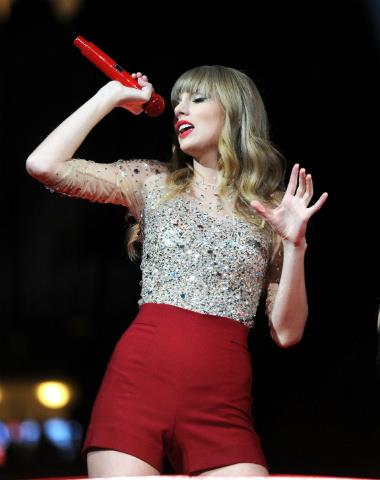 For her young audience, the show's reliability, consistency, can-do spirit and professionalism may have seemed reassuring — similar to knowing you can walk into a McDonald's anywhere in the world and have the meal taste exactly the same as it would in your hometown — and they are all admirable qualities that reflect a refreshing respect for her fans. But the performance had a tremendously manufactured feel that left no room for any organic interaction or an opportunity to veer off-script. Every movement, every arm flourish and hair swirl, felt planned with absolutely nothing left to chance. Swift seemed hyper aware of where the cameras were every minute, counting exactly — as a close-up of her face was plastered on a 30-foot screen at the back of the stage — how many beats to wait before glancing from side to side and giving a sly, knowing little grin to elicit maximum reaction. Make no mistake about it, Swift gives great face.
MSN Music: Exclusive Taylor Swift video interview
Swift, 23, displayed a kittenish, anodyne sexuality that she flirted with all night (probably thrilling the dads in the crowd), but never overplayed.
The Swift Code? Short shorts and a few suggestive hip thrusts were okay; any sexual suggestions, curse words, or low-cut tops were not.  In today's over-sexualization of children, it was a welcome change to know she was going to say nothing that a parent would have to explain later. 
Carried on the shoulders of her back-up dancers, Swift moved to a stage set up at the back of the floor to perform a few acoustic ballads, accompanying herself on guitar. During the faster dance numbers, her voice was often way down in the mix, overshadowed by both her back-up singers and her band, but while perched quietly on a stool, able to concentrate on only her singing, Swift sounded fine, and much more confident than in years past, on "Ours," "Everything Has Changed," performed with opening act and the song's co-writer Ed Sheeran, and the lovely, tender "Begin Again."
Sheeran wasn't her only guest: she brought out U.K. pop tart Cher Lloyd for a  Lloyd's "Want U Back," and Sara Bareilles to perform Bareilles' current hit "Brave."
MSN Music interview: Sara Bareilles
The encore-less, two-hour, 18-song set ended with "We Are Never Ever Getting Back Together,"  staged with a similar theme to her appearance on this year's Grammys: Swift as circus ringmaster, presiding over a cross between a Cirque du Soleil performance and a production of "Alice In Wonderland." She went out the same way as she came in: completely in charge.
Associated Press photos
The trash on Country's Awards shows sure isn't Country either. To me, Rap is filthy black trash that has destroyed children and the amazing artists of Rhythm and Blues and Soul that gave birth to Rock. So Taylor is a 'lighter' version of Avril Lavigne, especially the latest album "Red". But she plays a helluva show and loves her fans as much as any artist I can remember. Few "Country" artists can claim such fame because it is infused with rock. 
Are you sure you want to delete this comment?
live local music on
Enter your ZIP code to see concerts happening in your area.
Data provided by Zvents
follow msn music