The Julie Ruin get down to business
Former riot grrrl Kathleen Hanna shows off her new band in Seattle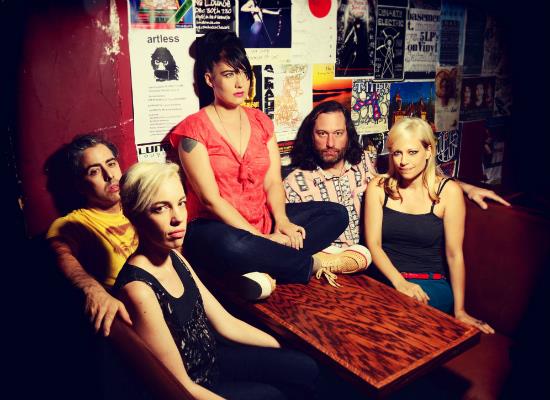 By Paul Pearson
Special to MSN Music
SEATTLE – As a running joke the Julie Ruin framed their set at Neumos in Seattle as a "business meeting." Kathleen Hanna described her outfit as "business casual:" a lightweight patterned vest over a black leotard and glossy white leggings. To prove she meant business, Hanna raised the Caffe Vita coffee cup she'd been drinking from at 10:30 at night.
The intended effect was pretty obvious but nonetheless pleasant. Hanna, arguably the figurehead of the '90s' riot grrl movement from Olympia, lampooned the stricture of both corporate professionalism and strident activism during her band's hour-long show. Straddling the line between musical provocateur and stand-up comedienne, Hanna justified her position as one of music's more intriguing frontpersons, even as she practiced self-effacement.
There was a little of Hanna's preceding reputation as the leader of Bikini Kill and Le Tigre hanging over the evening, but she had no problem puncturing her fans' gravitas about her personality. "I just figured out what three periods mean on the text machine," she said at mid-set, to which keyboardist Kenny Mellman replied, "Did you hear that? She just called it a 'text machine.'" "I'm in my 40's!" Hanna defended.
Bing: More on the Julie Ruin | What was the riot grrrl movement?
The passage of time was the unspoken subtext of the evening, and not just because of the two decades that have passed since Bikini Kill. Hanna's absence from the music scene over much of the last 10 years was at least partially because of her battle with Lyme disease, now in remission. Even given Hanna's iconic status The Julie Ruin's sudden prevalence, though welcome, is a little surprising. Both on record and on stage, they're the most fun project Hanna's ever been associated with.
While no band featuring Hanna will ever be short on message, The Julie Ruin succeed as entertaining personalities who refuse to underestimate their fans' intelligence, even if Hanna's offering mild social criticism. Addressing a contingent of fans who drove up from Olympia, Hanna said she always thought there was a kind of antagonism between Seattle and Washington's capital city. (I've lived in both towns and never noticed.) She acknowledged that she'll always consider Olympia her hometown because of the openness and support that existed when Bikini Kill thrived.
Bing: What famous rapper is Kathleen Hanna's husband? | Find out more about Le Tigre
The show revealed the real mid-life potential of the Julie Ruin as entertainment and megaphone. Musically they're a good resolution between Bikini Kill's agitprop and Le Tigre's pop awareness. "Girls Like Us" (in which Mellman sang backup vocals with no obvious irony) featured Hanna nearly rapping about the pointlessness of boundaries in the feminist movement, and "Kids In NY" found her reanimated by the breathless new creativity festering in Brooklyn. The band stomped through "Oh Come On" with unity and purpose, and Mellman got a turn singing his own poignant, biographical composition "South Coast Plaza."
The camaraderie between Hanna and Mellman was especially enjoyable to watch, as they teased and complimented each other in the show's many between-song spoken exchanges. Mellman's a well-meaning foil to Hanna's mature yet wisecracking personality. It bodes well for an artist of truly major importance who's trying to forge a new history, even as the old history still burns bright.
Photo credit: Shervin Lainez
live local music on
Enter your ZIP code to see concerts happening in your area.
Data provided by Zvents
follow msn music