The Monkees: Sonic youth elixir onstage
Michael Nesmith rejoins Micky Dolenz and Peter Tork to rekindle pop-rock glories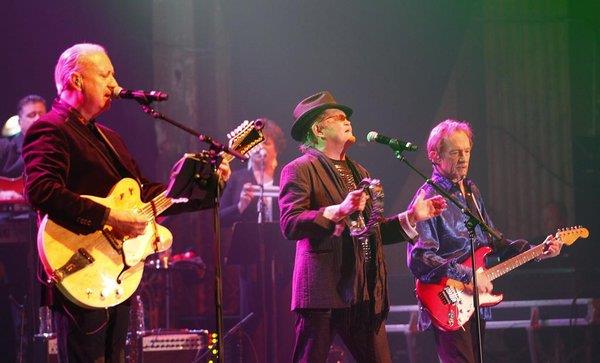 By Peter Gerstenzang
Special to MSN Music
PORT CHESTER, N.Y. -- Many of the men wore Hawaiian shirts, untucked not so much as a fashion statement, but so they'd still fit. Handsome women sported tank tops, but, unlike the old days, now had underwire bras beneath them. Still, scoundrel time aside, though balding, bespectacled heads gleamed in the spotlight, everybody was in a youthful mood at the Capitol Theatre here on July 15, simply because those hit-making machines, the Monkees, were playing. Sure, it was a chance for moms, dads and grandparents to relive their childhood years. But there was also a wonderfully open secret wafting through the theater like metaphorical marijuana smoke: Everyone was about to hear some of the catchiest, best-crafted pop music of the '60s.
And that's exactly what went down, man! 
From the moment Peter Tork, Mickey Dolenz and mercurial Michael Nesmith hit the stage, backed by a solid band, people didn't stop screaming or standing for two solid hours. Despite showing traces of age (Dolenz, removing his hat, showed a hairless pate; Tork's voice has been affected by cancer), the three remaining members of everybody's favorite prefabricated rock band opened with a killer take on their 1966 debut single (and first No. 1 hit), "Last Train to Clarksville." And the momentum stayed strong all evening.
Not just a night of hits, there was clearly a statement the Monkees wanted to make, too. As they dove into the country-ish "Papa Gene's Blues," the three surviving  members --now missing singer Davy Jones, who died in 2012 -- clearly wanted to quash old rumors that they couldn't even play the radio. Nesmith and Tork's work on guitar was strong and intricate. Dolenz drummed solidly.
Bing: Find tour dates and tickets for the Monkees
Despite a preponderance of Nesmith songs, the group didn't ignore the hits. As when Dolenz playfully announced, "I want any kids out there to know, I sang this way  before 'Shrek,'" then launched into a rockin' "I'm a Believer," written by Neil Diamond, one of the Brill Building songwriting stalwarts, who were a potent force behind the original quartet's commercial breakthrough. A brutal version of "(I'm Not Your) Steppin' Stone" was still as catchy and nasty (the Sex Pistols used to play it) as ever. "She," with its fist-pumping "Hey!" in the chorus, once had 16-year-old Joey Ramone bouncing on his bed. This mix of pop hooks and garage-y attitude made a good case for the Monkees being one of the cornerstones of punk.
There was surprisingly little mention of Jones until show's end. At which point, Dolenz brought up a severely pitch-challenged boy to sing "Daydream Believer." But as everybody sang the glorious chorus, many with tears streaming down their cheeks, Jones' death and the the tone-deaf kid were surmounted.
I could've done without the four-song tribute to the group's cult film, "Head," which seemed to be highlighted to show everybody how artsy these clean-cut boys really were. But when they encored with that thrilling swipe at suburbia, "Pleasant Valley Sunday," all was forgiven.
If this tour is, indeed, their last, by show's end, the Monkees had rocked the joint and proved their point. The songs they sang, whether written for or by them, were more full of hooks than a fish-and-bait store. And walking out into the night, "Sunday" still ringing in their ears? This crowd of believers knew these tunes would not soon be forgotten.
live local music on
Enter your ZIP code to see concerts happening in your area.
Data provided by Zvents
follow msn music