The Postal Service deliver in Seattle
The 'Give Up' anniversary tour celebrates a cherished record 10 years later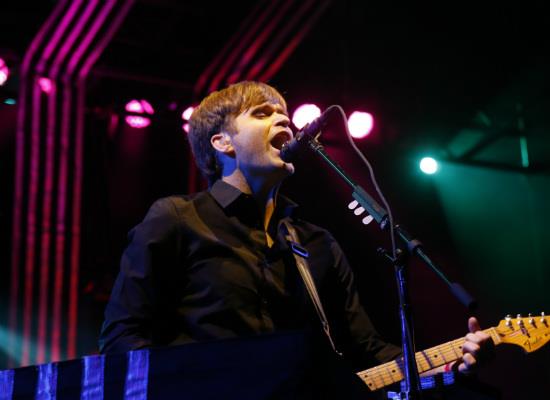 By Paul Pearson
Special to MSN Music
SEATTLE – The peculiarity of the Postal Service's position wasn't lost on Ben Gibbard. About 20 minutes into their set at the KeyArena, the affable frontman thanked the crowd for showing up "to hear songs that are 10 years old."
He was talking about the tracks on "Give Up," the 2003 debut of the electro-pop supergroup consisting of Gibbard from Death Cab for Cutie, producer Jimmy Tamborello (otherwise known as Dntel), and indie rock empress Jenny Lewis. "Give Up" remains their only original release, but it's a big one that's sold more than 1 million copies. It's the second best-selling album in Sub Pop Records' catalog behind Nirvana's "Bleach," and an unexpected touchstone for modern rock and dance fans at the time. Sub Pop reissued the album in April with some previously unissued tracks.
The audience at the Key proved the surprising longevity of The Postal Service's brief litany, selling out the house (albeit with some sections closed) and responding to the 80-minute, 16-song set with equal parts rapt attention and dancing. Fleshed out by keyboardist Laura Burhenn from the Mynabirds, The Postal Service ran through an efficient set with chance moments of elevation.
Bing: Find Postal Service music, videos and more
Gibbard has honed his persona as an inward-looking lyricist with flair for moderate drama and poetics, but completely devoid of arrogance. He was in near constant movement with his patented left-right guitar-playing sway familiar to Death Cab fans. Gibbard and Lewis also reflected the trend of multitasking among performing bands: He left his guitar station to perform on an acoustic drum set three times, while she alternated between guitar, harmonica, and some unidentifiable electronic devices the entire show.
In shows where at least half the music is previously programmed, spontaneity can be a challenge. Especially in the Postal Service's case, where at least half of their artistic appeal rests in Tamborello's dense electronics. There's a gap between how thrilling they sounded on "Give Up" and how casually they were executed onstage, as Tamborello was contained on a riser behind laptops and mixing consoles, surrounded by a sparse set with vaguely art-deco vertical lines.
But there's not much anyone can do about that. The sounds Tamborello accomplished on "The District Sleeps Alone Tonight," "We Will Become Silhouettes" and the nicely cacophonous "Natural Anthem" were faithful to the originals, if not redefining. There were moments of impulse as Tamborello sampled and manipulated Lewis' live vocals, and when he sang backup on "Sleeping In" which, kind of hilariously, got a lot of big cheers. Nobody expects the DJ to sing. Tamborello's shining moment, aside from unleashing chaos in the set-closing "Natural Anthem," was gradually up-ramping the tempo between the end of "A Tattered Line Of String" and the hit track "Such Great Heights." That created some tangible thrills.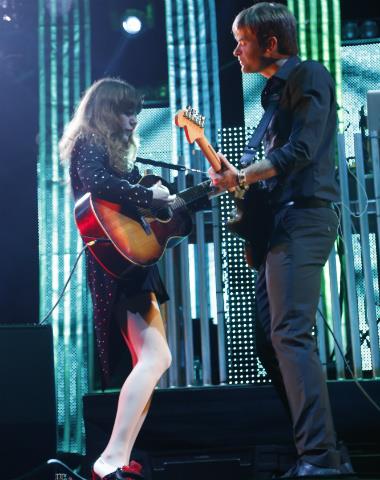 Seattle musician Jen Wood made a guest appearance, which devout local Postal Service fans had to know was coming. Wood was Gibbard's original duet partner on the recorded version "Nothing Better," a portrait of a crumbling relationship that might be "Give Up"'s most poignant song. The KeyArena show marked their first-ever live performance of the song. It went off without a hitch.
Gibbard projects his sincerity well across a big room, which is a big asset for him. He enthusiastically proclaimed Olympia's Beat Happening as the greatest band of all time before launching into a revealing cover of their song "Our Secret." He deliberately painted a strong story of dreams versus realization in "Clark Gable," a dark horse contender for the night's best song.
The only time Gibbard slipped into façade was at the end of the regular set, when he kicked over the pieces of his drum set. I've seen instrument destruction before, but never this well organized. The road crew very proficiently reassembled the drum set in time for the encore. You know, you can't really say you've caused any destruction without denting a cymbal at the very least.
New Orleans emcee Big Freedia, a pioneer in the bounce music style of hip hop, opened the set with aggressive calls and responses, furious beats, wild samples and three female dancers who spent at least a third of the time twerking with their backs – well, specifically their back ends – to the audience. A friend of mine remarked on Facebook that it was the most incongruous opening act she'd ever seen, and I agreed. You don't go from scantily clad women doing vigorous, almost violent booty-shaking to the meditative strains of Ben Gibbard in just a few degrees of separation. But nobody seemed to mind, and everybody seemed to adjust.
Photo credit: John Davisson/AP
live local music on
Enter your ZIP code to see concerts happening in your area.
Data provided by Zvents
follow msn music