Vince Gill takes on Westboro picketers outside his concert
Singer steps outside the venue to confront demonstrators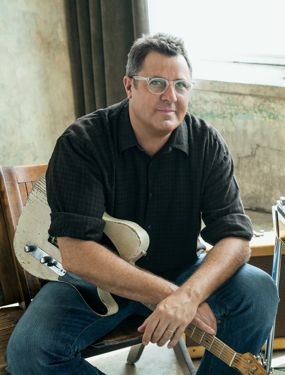 The Nashville music industry is cheering for Vince Gill after he stepped outside a concert venue on Sunday and confronted members of the notorious Westboro Baptist Church who were picketing there, apparently because Gill is divorced and remarried. According to The Tennessean, the confrontation took place in Kansas City at the Kauffman Center's Muriel Kauffman Theatre.
This 55-second video shows part of the confrontation, in which Gill responds to a question from Westboro member by telling her, "I came out to see what hatred really looked like in the face."
Getting angry for a moment after being accused of adultery, Gill says, "You [expletive] are lucky that you don't have a sign that says something about my wife." Gill has been married to singer Amy Grant since 2000. They wed two years after his divorce from Sweethearts of the Rodeo member Janis Oliver.
Gill then tells a picketer who is purporting to cite the Bible that that Jesus Christ "said a lot of stuff about forgiveness, about grace. You guys don't have any of that."
After he's told by another Westboro member "I don't care what you think" Gill shoots back, "You don't? Then why are you out here?"
He also asks the small group if any of them are members of Westboro's founding family, or if they're just "the C-team."
Via his publicist, Gill declined One Country's request for comment.
As The Tennessean reports, the Topeka, Kan.-based Westboro proclaims to "adhere to the teachings of the Bible, preach against all form of sin (e.g., fornication, adultery [including divorce and remarriage], sodomy), and insist that the sovereignty of God and the doctrines of grace be taught and expounded publicly to all men," according to its official Web site.
The church is known for its frequent picketing; including military funerals and anywhere else its members are likely to generate publicity.
live local music on
Enter your ZIP code to see concerts happening in your area.
Data provided by Zvents
follow msn music