Zac Brown Band and Dave Grohl to release songs in December
Grohl produced and played drums on country group's iTunes album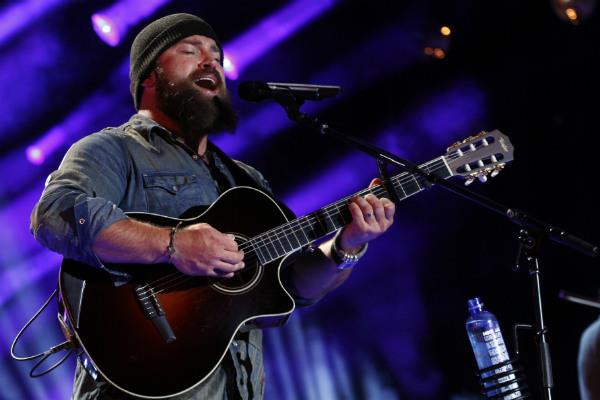 By Kory Grow
Rolling Stone
Country-rockers the Zac Brown Band announced today that they will release "The Grohl Sessions Vol. 1" on iTunes on December 10th. The release, which Dave Grohl produced and played the drums on, will feature the recorded debut of the song "Day for the Dead," which the band and the Foo Fighters frontman recently performed at the CMAs. Other tracks on the release include "All Alright," "Let It Rain" and "The Muse," the latter of which was written by the Wood Brothers, an ensemble signed to Brown's label Southern Ground Artists.

"Dave is a musical genius," said Zac Brown in a press release. "It's been amazing to play with him onstage and get to spend time working with him in the studio. We are excited for fans to hear the music we've been able to create together."
Bing: Zac Brown Band music and more | What's the latest on the new Foo Fighters album?

Grohl discussed the collaboration with Rolling Stone at the American Music Awards this past Sunday. "They're unbelievable," he said of the group. "The band is so good they can be tracked live; we didn't fuck with computers, we tracked live, four-part harmonies around one microphone. It's rocking. I didn't know what [the band] was [prior to this]. People are like, 'Oh, it's country.' 'No, it's not, it's like the Allman Brothers.' 'No, it's not, it's jam band.' I don't even know what you would call it, it's fucking great."
Also from Rolling Stone: Q&A: Dave Grohl on Kurt's Last Days and the Making of 'In Utero'

With the announcement of the release, the band posted a video chronicling the making of "The Grohl Sessions Vol. 1":
More from Rolling Stone
See Dave Grohl Jam With Zac Brown Band at the CMAs
Q&A: Dave Grohl on Rocking Like Queen, Covering Prince, and more
Q&A: Dave Grohl on His 'Sound City' Doc and Taking Risks in Music
In Pics: The Hottest Moments From the 2013 CMA's

Photo credit: Associated Press

Just saw these guys in concert. I have seen many bands but these guys are musical genius. They are all very talented and put on a great concert. Adding Dave's influence will only help them to bring a different sound to country which is awesome at it core but has room for some variation and I like it. Hands down they are the best country band out there right now. They did Metallica "Enter Sandman" Better then Metallica did it both times i saw them!! Just a great band and they play every instrument and even do a stripped down accoustic session of " I like big butts!" LOL
Are you sure you want to delete this comment?
live local music on
Enter your ZIP code to see concerts happening in your area.
Data provided by Zvents
follow msn music