FEATURED POST
Genesis singer has one of the rarest collections in the world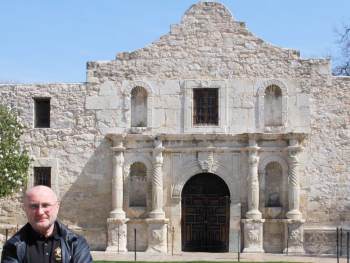 Jeff Beck
loves cars, and
George Harrison
loved Formula 1 racing.
Neil Young
is obsessed with trains, be it Lionel tracks or the real deal. 
Bob Dylan
paints, and
Jack White
is into taxidermy.
Elton John
and
Rod Stewart
are both so obsessed with soccer that they've written songs about it.
Ian Anderson
owns salmon farms.
Phil Collins
? He loves the history of Texas, especially what happened at The Alamo.
Collins recently made a trip to Buffalo Gap, Texas to talk about his extensive collection of artifacts and history of The Alamo and the American West. He owns a rifle previously owned by
Davy Crockett
, a genuine Bowie knife owned by
Jim Bowie
and a
Sam Houston
snuffbox.
"It keeps me off the streets. What am I going to do? I don't want to traipse around the world anymore,"
he told Steve Campbell of the Fort Worth Star-Telegram
. "I love it. I sit downstairs in my basement and looking at and sort of drooling over what I've got. It was never my intention to have this huge collection, but one thing led to another and it's my private thing."
He has written a new book, "The Alamo and Beyond, A Collector's Journey." It chronicles his obsession with the place ever since watching TV as a child and his first trip to the landmark when Genesis toured the U.S. in the '70s. In recent years he has funded archeological digs and built his collection into one of the finest in the world. Hey, there are worse ways to spend your money.

live local music on
Enter your ZIP code to see concerts happening in your area.
Data provided by Zvents
follow msn music