FEATURED POST
On the road with hours of hits, the band can afford to shrug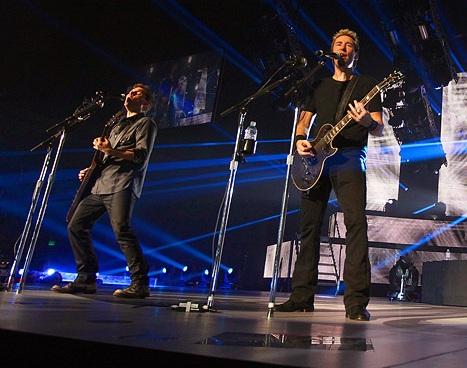 There seems to be no middle ground on
Nickelback
– fans are rabid, detractors just as rabid. Perhaps the most extreme example was an online petition to block the band from performing at an NFL game in Detroit last year – the result of which was a hilarious parody video on Funny or Die that the band eagerly took part in.
Because they don't care. Chad Kroeger and his band mates let the criticism roll off their collective backs as they pack arenas across the country and sell CDs – the career most musicians wish they could have these days. They're out now with the "Here and Now" tour, headlining arenas with an elaborate stage show and an impressive under card including Bush and Seether. Kroeger and band mate Ryan Peake recently sat with some reporters to talk about the tour and their career up to now.

You've got a traditional career but you're also using social media to your advantage, including an interview where all questions come from fans. Do you spend a lot of time trying to navigate the new world we're in?
Kroeger:  "Well, we try not to focus on that too much. You know, we have other people that come to us - come to us with ideas of, you know, let's try to reach our fans, you know, this way. Let's try to reach our fans, you know, another way. They've been really good to us and let us focus on the tour and the music. And they come to us with those ideas, thankfully, just because everything is changing and evolving so rapidly…. trying to keep up with all that is very difficult. So thankfully we don't have to worry about that too much. We've got other people to worry about that. And like I said, they've been really good in terms of just letting us focus on the music and coming up with, you know, when we want to blow things up in the set and when we, you know, when we want to stand on a flying stage that takes us across the arena and sets us down at the other side."
live local music on
Enter your ZIP code to see concerts happening in your area.
Data provided by Zvents
follow msn music