FEATURED POST
"Stop hurting people's feelings. Stop bullying people."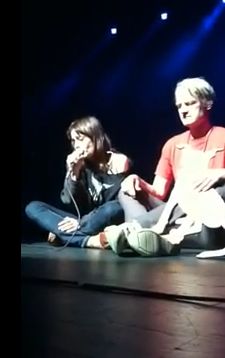 Fiona Apple's
recent bust for pot (
in a Texas town notorious for targeting rock stars
) got her in the tabloids, both in print and online.
So she struck back at her Clearwater, FL. show
- sitting down on the stage, addressing the rumors about drugs and her weight, and asking the tabloids to lay off.
"I realize that it's hopeless and ridiculous for me to ask this. But Perez Hilton, TMZ, whoever you represent, I'm not invulnerable to this stuff. I've been around for many years, but it hurts. ... So lay off of that stuff because it hurts my feelings. If for no other reason, that should be a good enough reason. Stop hurting people's feelings. Stop bullying people because you were bullied. I know that's not what you are. It can't be. I hope it's not. Anyway, please stop hurting my feelings because it really (expletive) bothers me. It really, really does, seriously, seriously. Please stop."
You can watch it below, as she invited a fan down to tape it for the Internet. Watch out for the F-bombs, however. 
live local music on
Enter your ZIP code to see concerts happening in your area.
Data provided by Zvents
follow msn music