Outside Lands, Day 1
Welcome to an Urban Oasis
By Jonathan Zwickel
Special to MSN Music
View photos: Inside Outside Lands 2009
For a festival only two years old, Outside Lands feels like a beloved, lived-in piece of San Francisco culture. It condenses Northern California's illustriously high quality of living into a heady three-day bacchanal of food, wine, and, of course, tons of music. At no other festival can you snack on local oysters and artisanal sausage while sipping local, organic wine and watching world-class musicians on a solar powered stage in the middle of Golden Gate Park, an urban oasis set in the center of the city that feels miles away from the real world. Even with 50-thousand some revelers thronging five Cyprus-shaded stages, there's a sense of openness and ease here, unmatched by similar-caliber festivals like Coachella and Bonnaroo. Makes soaking up sunshine and tunes for 10 hours feel like the luxury it truly is.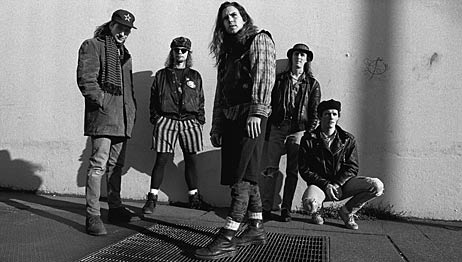 Headlining the festival Friday night was Pearl Jam, who leveled an adoring audience with a two-hour-long set comprised almost exclusively of old favorites. "Got Some" and "The Fixer"—the first single from "Backspacer," PJ's soon-to-be released ninth album—were the only new numbers of the night; their high-octane overdrive flowed nicely into the stream of well-worn classics like "Animal," "Given to Fly," and "Go." Like most of the 60-thousand heads at the festival, Eddie Vedder seemed intoxicated by his surroundings: "It looks like Amsterdam, it smells like Amsterdam…" he said to the smoke-hazed throng. He reminisced about Bridge School concerts past, benefit shows organized by Neil Young played years ago an hour south at Shoreline Amphitheater: "I had the worst case of food poisoning," he said, "but luckily we had a friend named Uncle Neil." The band blew into a pair of "Uncle" Neil Young covers—"Throw Your Hatred Down" and "Keep On Rocking in the Free World"—to close the night.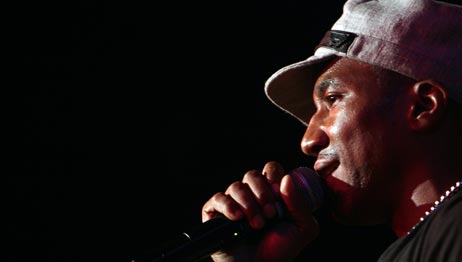 Earlier in the day, Outside Lands' hip-hop faithful were given a glimpse of Golden Age glory when beloved MC Q-Tip brought out Phife Dawg, his former partner in A Tribe Called Quest, to close his set. Early on, Tip announced that his performance was dedicated to DJ A.M. who had been found dead of an overdose in his New York apartment earlier in the day. (Meanwhile, a daring few leapt the fence to the south of the Twin Peaks stage and disappeared into the crowd.) Though he sprinkled in songs from last year's brilliant "The Renaissance," Tip leaned heavily on classic Tribe material, and fans were wondering whether a cameo was in the offing. Sure enough, for the finale of his 50-minute set, Q-Tip and Phife traded verses on "Award Tour," backed by a five-piece band and DJ. "I don't know if you'll ever see that again," Tip said before leaving the stage.
A short walk away on the Lindley Meadow Stage, Welsh six-piece Los Campesinos! banged and strummed through an unabashedly perky set of punk-inflected pop. With boy-girl vocal sparring, a violin, and a glockenspiel, they sounded like Belle and Sebastian's bratty pair of younger siblings. They started up right as Akron/Family finished on the Sutro Stage, winding from tribal drum circle to Yes-style prog rock in the span of a single song.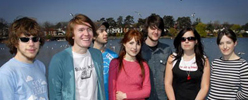 Other highlights: LA's Autolux started the day on the massive Land's End stage, adrenalizing the first hundred or so early birds with slick, silvery drone pop reminiscent of late-'80s Sonic Youth. Zap Mama frontwoman Marie Daulne strutted to hear band's funked-up pop with a 12" vinyl record pinned to her head like a Derby hat. Backed by a pair of vocalists, a crack rhythm section and a trumpeter, she led her band through a soul workout of James Brownian proportions without skipping a beat. Also upping the soul factor were Black Joe Lewis and the Honeybears, a smoking R&B revue from Austin, Texas. Of all the horn sections at the festival—and there have been a lot—theirs, anchored by a big, ballsy baritone, was the baddest.
live local music on
Enter your ZIP code to see concerts happening in your area.
Data provided by Zvents
follow msn music