Outside Lands, Day 2
Dave Matthews and No Garbage
By 
bess d
 Aug 31, 2009 10:11AM
By Jonathan Zwickel
Special to MSN Music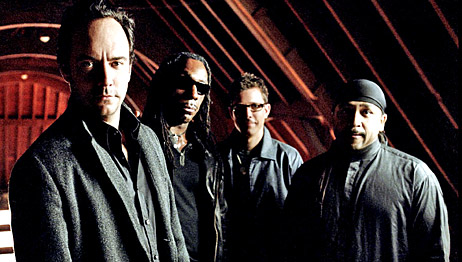 View photos: Inside Outside Lands 2009
Here's the conscientious vibe of Outside Lands summed up to a T: Steven Chiv, a 31-year-old contractor for the San Francisco Department of the Environment, was posted near a bank of trash cans at the Twin Peaks stage, happily sorting oyster shells and corn-plastic cups from the recycling bin to the compost. "We're at 75% no-waste this year," he said, "and we'd like to be 100-percent zero waste by 2012." For a massive festival attracting 50-thousand some attendees each day, Outside Lands is remarkably low-impact (though water refills in your snazzy, $15 reusable metal bottle are $1.)
Dave Matthews Band was Saturday night's headliner, and like Eddie Vedder the night before, he sang with shredded vocal chords. Unlike Vedder, Matthews seemed to really enjoy the gravel in his voice. "I have a frog in my throat," he growled midway into his band's two-hour long set, "but it's a delicious frog." For some reason, Black Eyed Peas' Fergie and apl.de.ap made a brief cameo to lead the crowd in some awkward chanting while Matthews tried his hand at break dancing. It was a foolish pairing that Matthews soon recovered from by unleashing a sinuous, 20-minute version of fan favorite "Lie in Our Graves." Six-string master Tim Reynolds, Matthews longtime foil, sat in all night long, and replacing deceased sax player LeRoi Moore was a three-piece horn section (with an alto sax occasionally cheesing up the works). Matthews made his shredded voice a running gag, sounding like Tom Waits making nice for 40,000 people. After the Mars Volta ran down on the Twin Peaks stage at the other end of the festival, Matthews and co. were the only jam left to close out day two of Outside Lands.
Nobody expects Dave Matthews to play "Stairway to Heaven." Then he does. With Robert Randolph on red-hot lap steel guitar, Matthews croons the lyrics to a slowed-down version of Bob Dylan's "All Along the Watchtower" over "Stairway." He and Randolph segued between the two classics during a shred-heavy encore, then rolled into a legitimately funky version of San Francisco native Sly and the Family Stone's "Thank You" that proved just how versatile Matthews and Co. can be—especially when backed by Randolph.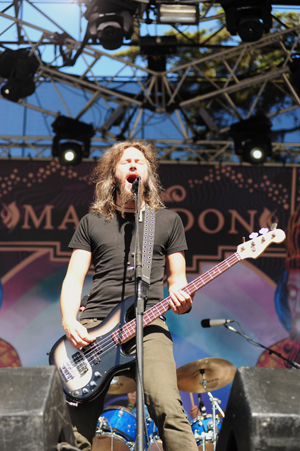 The Twin Peaks stage at the opposite end of the festival grounds was the place to be most of the day. Back-to-back sets by Mastodon and TV on the Radio were stunning, demonstrating why these two bands will be taking Matthews' place on the main stage in just a few years time. Mastodon—a five-piece metal outfit from Atlanta with a penchant for the metaphysical—started with songs from this year's instant classic "Crack the Skye," slid back through the years into their back catalog, then returned to the present day with a reprise of "Oblivion" from "Crack the Skye." Drummer Bran Dailor proved a double kick drum, judiciously used, is a beautiful thing, while Brett Hinds peeled off phase-shifted solos on his black Flying V. The band worked as hard as its audience and delivered one of the day's most intense performances in the mid-afternoon sun. TV on the Radio added brassy swing to their brainy, muscular rock with a trumpeter and a pair of sax players, including energetic Stuart Bogie of Antibalas. "Golden Age," one of the highlights from last year's "Dear Science," never sounded better.
Extra Golden continued in the afro-pop vein of Zap Mama the day before, unspooling beautiful, guitar-driven grooves on the sun-powered Solar Stage. Across the lawn, under a massive, richly-curtained Wine Haven tent, gourmands sampled 70-plus Bay Area vintages and Hogg Island oysters. Later in the day, the afternoon sun added unusual luster to Deerhunter's drug-damaged pop and added a dreamy haze to Portugal. The Man's omnidirectional prog-rock. Over on the Sutro Stage, dancers swayed to Nortec Collective's Mexi-techno, even though the Tijuana-based band—producers Bostich and Fussible on laptops, a trumpeter, and a fauxhawked sousaphone player—had zero stage presence. Sometimes a good beat, a cold beer, and a patch of sun is all that's required for maximum enjoyment. 
live local music on
Enter your ZIP code to see concerts happening in your area.
Data provided by Zvents
follow msn music