Alice Cooper and Marilyn Manson bury their hatchets
Once-feuding rockers will tour together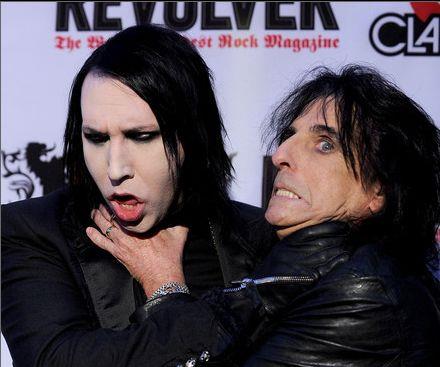 One of the surprise double-bills of the summer is today's announced Alice Cooper/Marilyn Manson co-headlining tour. Surprising, because the two have sniped at each other in the press for years, with Cooper vowing to have nothing to do with Manson (though the 2010 photo above shows they've apparently had a thaw in relations).

A few years back Cooper gave me an interview where he dripped with disdain for Manson, his message and his music.
"Hmmm. Where have I seen that before? Marilyn Manson. Even the names - Alice Cooper, Marilyn Manson - are pretty similar," Cooper said. "I don't agree with their whole satanic thing, this whole 'Antichrist Superstar' sort of thing. I know that's meant to irritate people, but I certainly don't want people to associate me with that. Alice was always more fun than that. Religion was much too personal, and politics was much too boring. Our three targets were sex, death and money."
Manson reportedly retorted: "However much I love Alice Cooper's music, I was always a little disappointed in his offstage separation from his onstage persona. That was always a letdown for me as a kid, because I don't ever consider myself a different person onstage and offstage. I definitely have two sides to my personality: Marilyn and Manson. And on this new record, that's further split into Marilyn Manson and Antichrist Superstar. So I don't feel you ever have to limit yourself by saying, 'This is who I am when I'm that person.'"
The tour indicates the two made-up rockers have made up. Should be interesting.

Are you sure you want to delete this comment?
live local music on
Enter your ZIP code to see concerts happening in your area.
Data provided by Zvents
follow msn music