Van Halen members act friendly and whatnot
Are the hatchets really buried?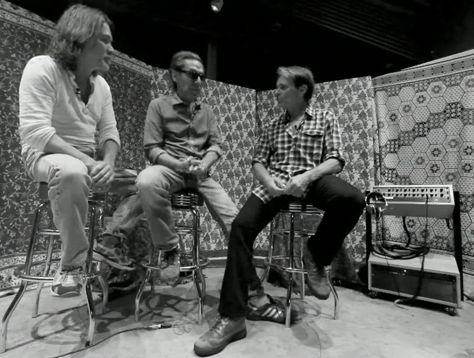 Anyone worried about the tensions inside
Van Halen
might have their fears eased by this --
a new interview with the three founders of the band
. Not just any chat -- it's
David Lee Roth
interviewing
Eddie and Alex Van Halen
about their music, family and influences, and everyone's having a marvelous time. The last reunion tour was pretty hot even though the relationships seemed contentious; if this video is any indication, the chemistry might kick up a notch or two this time around. The new album, "A Different Kind of Truth," is out today.
See the MSN Music review of the disc
.
And it's not just MSN that likes the new music - "A Different Kind of Truth" is getting uniformly rave reviews across the country. The band reached back to some demos that pre-dated its first album in the '70s, updated them and mixed them in with newer material. Even the most skeptical fans went from "This can't possibly work" to "Hey, this is pretty good." It's a return to the crunching, riff-driven rock the band started out with, coupled with Diamond Dave's wailing vocals and swagger to spare.
The band's tour, its first since 2007-2008, will start in Louisville on Feb. 18 and is already sold out in most cities across the nation. After announcing the show at a somewhat-rough "secret" gig at Cafe Wha? in New York City,
the band held another private show last week in Los Angeles that smoked
. The last tour was a good start. But if the members can show the same easy camaraderie, respect and chemistry evident in that show and the intimate interview linked above, this could be the true rebirth of the Van Halen legacy.
Predictably, ousted VH singer
Sammy Hagar
is unimpressed
.
For the moment, only U.S. dates have been announced; no word on traveling overseas.
February
18th – Louisville, KY
20th – Auburn Hills, MI
22nd – Indianapolis, IN
24th – Chicago, IL
28th – New York, NY
March
1st – New York, NY
3rd – Uncasville, CT
5th – Philadelphia, PA
9th – Buffalo, NY
11th – Boston, MA
15th – Montreal, QC
17th – Toronto, ON
21st – Ottawa, ON
24th – Atlantic City, NJ
28th – Washington, DC
April
1st – Rosemont, IL
10th – Sunrise, FL
12th – Tampa, FL
14rh – Orlando, FL
16th – Jacksonville, FL
19th – Atlanta, GA
21st – Greensboro, NC
25th – Charlotte, NC
27th – Nashville, TN
May
1st – Tulsa, OK
5th – Tacoma, WA
7th – Vancouver, BC
9th – Calgary, AB
11th – Edmonton, AB
17th – Winnipeg, MB
19th – St. Paul, MN
22nd – Kansas City, MO
24th – Denver, CO
27th – Las Vegas, NV
June
1st – Los Angeles, CA
3rd – Oakland, CA
5th – San Jose, CA
12th – Anaheim, CA
14th – San Diego, CA
16th – Phoenix, AZ
20th – Dallas, TX
22nd – San Antonio, TX
24th – Houston, TX
26th – New Orleans, LA
live local music on
Enter your ZIP code to see concerts happening in your area.
Data provided by Zvents
follow msn music