O.A.R. turns struggle into music
A three-year odyssey in making the new album "King"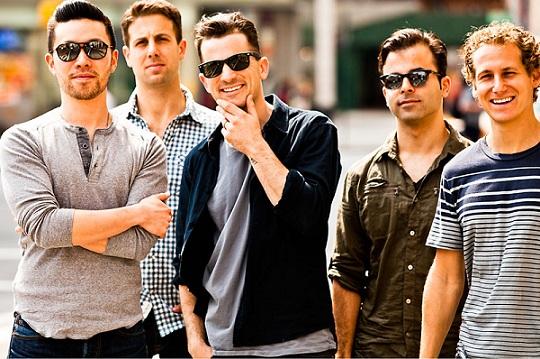 It has become a cliché worth repeating – as John Lennon said, "Life is what happens to you while you're busy making other plans."
No one needs to tell that to the members of O.A.R. Lead singer Marc Roberge posted a long explanatory letter to fans on the band's website, detailing the three-year journey of making "King" and how life got complicated along the way. What initially looked like an album ready to go didn't feel quite finished, so the band decided to live more life before finishing it off. And they got more than they bargained for.
Touring went great, but the music business continued to be rocky, with the band parting ways with Atlantic Records. Family crises, including Roberge's wife's fight with cancer, suddenly put life in perspective and changed the direction of the songs and the band itself. While it's impossible to take such things in stride, O.A.R. addressed it in their art, turning "King" into a different album than originally planned (see the latest single "Gotta Be Wrong Sometimes" below).
The band's summer tour kicks off Thursday in Indianapolis and hits Red Rocks in Denver on Sunday, where
the show will be livecast on AXS TV
and eventually released as a DVD. Roberge recently sat down to talk about the making of the album and the band's new perspective on getting on the road in front of fans with their music.
MSN: The making of "King" turned out to be a bigger journey than you imagined. It must be a relief to be on the other side of all that.
Roberge: "When you're in it, it's all just kind of reacting to what the day brings. The whole process of making that album was reacting, constantly making the best of a situation or connecting with the band when you needed it the most. At the time it was hard to see what was happening or even make sense of it. So it all had to happen in the songs … it's now a chapter in life that is full. Now it's time to move on and get out and play the songs. Living and making that record was such an experience. What I learned is time is fleeting and whatever's most important to you, make it happen."
Sometimes hard times make the best records; after tragedy, The Pretenders came back strong with "Learning to Crawl." But you were already in this album when times got hard.
"I began this album writing the title track, 'King.' It was supposed to be an intro…to a story about a lost person coming back and taking control of his life. This album was supposed to be stories of that guy getting beat up by life and situations and coming back from that, taking a proactive stance in his life. I didn't realize over the course of the album…was that process became that year and a half of life. Everything we ran into just became a song. All the messages in there were learned as my personal life was snowballing. So yeah, songwriting was completely affected by what went on in my life. When you write and react to your life, they all have the same ending, a triumphant ending."
Tell us more about how the album evolved.
"The album started off as a story about someone who left in search of life, out there wondering what's going on over there, never really paying attention to anything close. That's what it was supposed to be, this triumphant return – someone knowing who they are and being proud to say 'Take me or leave me.' That's what we all wanna be in life…. Then life happened and everyone adjusted and did everything they could to take care of each other. At the end of it I've become closer to that person that this character was supposed to be. When you face stuff that is tough and you get through it, you feel like you can do anything. It ended up the same way it was supposed to end up – with a happy ending."
Do you ever worry about making the writing too personal?

"Absolutely yes. It is kinda hard. Looking back I've been a pretty open book, but on the other side, completely shut off… It's hard to open up your life. At the same time, where do songs come from in the first place? I always just go with the flow. …the 'woe is me' factor is the biggest thing to avoid. You do these songs and you record them and you feel good. It's therapeutic, you gotta get 'em all out. Then you look back and say 'Is this complaining, publicly, for sale?' But you quit apologizing for what you do – you take it or leave it."
O.A.R. has done a great job of staying current with technology; you've got your live shows available for download, you have the Red Rocks broadcast coming up, the new album is streaming on your website, etc.

"First and foremost being in a band or any type of job the only way you can continue to do that job is stay relevant, stay at it. You have to change, you have to adjust to what's around you. When we started out we had a staple gun and a bunch of fliers, stapling them all over town. Nowadays I imagine flier-ing is a thing of the past. But at the time that was cutting edge (laughs).  How cool can your flier look? Nowadays we're doing the same thing. The world of music changes every single day. You know that just as much as I do. You can either move with the flow of things or just get washed over. ... I don't personally know what's going on next in tech. I check in with folks who do."
But no one really knows where it's all going.
"You're right. No one does. But these younger guys who have been working in music came up in such a different world. I learned so much from just watching folks get their stuff out there. It's really impressive….the really great stuff is gonna cut through, stuff that normally wouldn't get out there. Making this next album, I'm going to be taking a lot of notes via Twitter."
You and a lot of other bands used to road-test new songs, but in this YouTube era bands have become hesitant to let that music out.
"Dead on, dude. For years and years we road-tested everything. We tried to write song onstage in real time in front of the audience. We did that for a long time and it benefited us greatly because people traded these songs all over the place. You get in the studio and you make the song to your liking. A lot of people fell in love with the road-tested version and may not like the final studio version. We had this knee-jerk reaction saying 'You know what? We should just get it to a place we're happy with it before presenting it to people.' So we toned down the road-testing. Now I've done another 180. Six months ago I decided screw it, we're road-testing everything. You can test a song so easily just to see if the crowd is moving or not. That tells you everything you need to know."
That works well historically. The Atlantic Monthly made the argument a couple of years ago that the Grateful Dead was a viral business pioneer by allowing taping from Day One.
"Absolutely. Then the Dave Matthews Band did it. We saw what they were doing and thought it was so cool. Their fans just built communities within communities. There were tapers better known than other tapers because their quality was so good. We saw that and thought that's what our world should be like. You're dead on. They'd mail albums to their fans. I think Phish did that too, some fan club where they'd send you stuff directly. This is where we're all going to end up, giving them their CDs directly if they want physical copies."
Besides your stand-alone dates you've done a lot of festivals in the past.
"We've done quite a few, Bonnaroo, 10,000 Lakes Festival, a lot of them. I love them. It's an opportunity for us to get in front of people we normally wouldn't get in front of. That's an underdog situation, which as a band we love and a lot of bands love it. You have to
earn
it, and that's just the best place to be. I love playing shows when it's our show – I love it more than anything in the world. But the challenge of a festival, I love that. ... (but) the people who are loyal to you, you have to be loyal to them. The relationship between the two of you keeps the good times alive."
The slowdown in the music business has forced bands to step up their game live and not just go through the motions.
"Big time. Big time. In my world, in my mind, from a 12-year-old kid till now, at the core all I really wanted to do was enjoy writing and playing songs. The fact that I get to do that is good enough for me. The other stuff – when it's up, when it's down, when it's sideways – you make the best of it. You appreciate it, not take it for granted."
So can fans expect a lot of changes and road-testing on this tour?
"That's exactly what they can expect. We're gonna play a lot of deep catalog songs. We're definitely in the midst of writing new songs. The new songs …are just happiness, kind of a celebration. We're excited to get out there and we're writing songs about it."
live local music on
Enter your ZIP code to see concerts happening in your area.
Data provided by Zvents
follow msn music