British band you never heard of wins music prize you *may* have heard of
Alt-J takes Mercury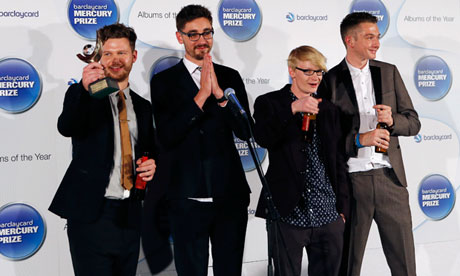 Over here, we have
the CMAs
(among other music awards shows)—they're on TV, they get a bit of media attention, you know the drill. In England, however, they take these matters VERY seriously, which is why there is widespread news that a nerdy indie band called Alt-J has won the coveted Mercury Prize, which was established in 1992 to honor the best new album from a short list of British or Irish artists with a  £20,000 check. Or rather, "cheque." Last year's winner was P.J. Harvey for the astonishing "Let England Shake."
LONDON — Indie pop quartet Alt-J has won Britain's prestigious Mercury Prize, beating more established acts to the 20,000 pound (roughly $32,000) prize at the Roundhouse in north London.
Formed of four Leeds University students who met in 2007, the band's sharp but spare vocals, genre-bending sound and occasionally bizarre, nasal lyrics propelled them onto the charts well before its members found fame.
Critical reception to their debut album, "An Awesome Wave," was extremely favorable and the band was heavily tipped to beat artists including rapper Plan B and singer-songwriter Richard Hawley, who were also among the prize's 12 finalists.
Music journalists have praised the group's idiosyncratic song-building skills (and few failed to dwell on their bizarre name – it's the command needed to get a triangle shape on a Mac).
Jenny Stevens of NME praised their "bookish sensibility and penchant for a sexual metaphor," while the Guardian's Paul Lester said their music was "rich and quirky enough to match the imagistic literacy of the lyrics."
If there are Anglophiles among you, play on:
live local music on
Enter your ZIP code to see concerts happening in your area.
Data provided by Zvents
follow msn music