Nickelback gets the last laugh
On the road with hours of hits, the band can afford to shrug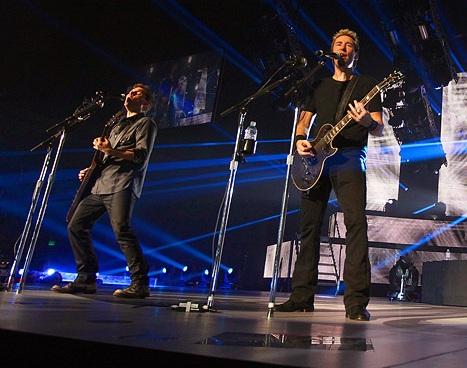 There seems to be no middle ground on
Nickelback
– fans are rabid, detractors just as rabid. Perhaps the most extreme example was an online petition to block the band from performing at an NFL game in Detroit last year – the result of which was a hilarious parody video on Funny or Die that the band eagerly took part in.
Because they don't care. Chad Kroeger and his band mates let the criticism roll off their collective backs as they pack arenas across the country and sell CDs – the career most musicians wish they could have these days. They're out now with the "Here and Now" tour, headlining arenas with an elaborate stage show and an impressive under card including Bush and Seether. Kroeger and band mate Ryan Peake recently sat with some reporters to talk about the tour and their career up to now.

You've got a traditional career but you're also using social media to your advantage, including an interview where all questions come from fans. Do you spend a lot of time trying to navigate the new world we're in?
Kroeger:  "Well, we try not to focus on that too much. You know, we have other people that come to us - come to us with ideas of, you know, let's try to reach our fans, you know, this way. Let's try to reach our fans, you know, another way. They've been really good to us and let us focus on the tour and the music. And they come to us with those ideas, thankfully, just because everything is changing and evolving so rapidly…. trying to keep up with all that is very difficult. So thankfully we don't have to worry about that too much. We've got other people to worry about that. And like I said, they've been really good in terms of just letting us focus on the music and coming up with, you know, when we want to blow things up in the set and when we, you know, when we want to stand on a flying stage that takes us across the arena and sets us down at the other side."
This is the biggest tour you've ever undertaken. How does it compare to past shows?
Kroeger:  "I just don't think this even compares to anything we've done before. This is - it's so over the top. … we've got this flying stage that comes down and picks us up. And takes us across the arena and starts spinning. And we were in pre-production for I don't know - a week to ten days - just practicing everything, knowing where we're supposed to stand, so, you know, one of our legs doesn't get blown off. And we had never taken the thing up to show height. And we're trying to focus. We're trying to remember the words. We're trying to, you know, play our part and look cool while we're doing this. And I'm trying not to, you know, trying not to fall over. And, you know, this thing starts spinning. It's just absolute insanity. You know, we've got this massive screen. It splits apart in six different sections."
Peake:  "The interesting part is like this all the stuff, you know, that's been dreamed up for this. The thing Chad came up with is the flying stage idea. We tried that out and then it comes to fruition the day you get there to see it all."
Is doing this show this way that's what necessary in this day and age. That you have to keep giving people more and more, more and bigger, bigger, bigger, and better just to keep them interested?
Kroeger:  "Well, it's a good question. I guess the mindset that I've always had that I guess I try to, you know, give the other guys of like, come on guys bigger, bigger, bigger, better, better, you know, more, more everything.  There's only so big we can actually get before we get to certain point where it's just, I mean everything just won't fit in an arena. And I mean there was actually a point where we were in pre-production and I looked at the other guys. You know, and we'd seen absolutely every aspect of the show minus the pyro.  ... but it's served us well. You know, we keep trying to keep our tickets lower than everyone else and bring more of a show. And with this day and age and everybody seeing everything on YouTube and everyone's been to Vegas before. And everyone's seen every gag before."
The way people watch concerts today they're not really watching the band anymore. They're watching it through their video cameras and their phones. What does that feel like for you to look out there and not necessarily see people watching you but watching it through a lens? And do you feel like you might be a little more disconnected from the crowd because of that?
Kroeger:  "I think they're still taking it in there, you know. They're just holding - I think just holding whatever phone or recording device in the air now. It's just become second nature. And you can tell the songs that they definitely want to put up there. Because when you see thousands of hands go up - the only thing I'm thinking is - oh, don't trip, don't screw up. Don't do - you know, this is going to be on YouTube in seconds because it's just like the world is watching, you know. And it has that sort of pressure to it. I think - I think there's a bit of a - there's going to be a bit of a curve to it I feel. I've been a bit guilty of the same thing where I'm at a show and I'm just like, I've got to share. I'm like this is unbelievable. I've got to share this."
Do you think Nickelback will ever get into the Rock and Roll Hall of Fame? And what do you make of Axl Rose refusing to show up?
Kroeger:  Nickelback will never get into Rock and Roll Hall of Fame. I don't think they'll let us in. And I think - I think that's crazy for - why wouldn't he want to be celebrated, you know? Guns N' Roses had they stayed together would still be one of the biggest bands in the world.  You know, it's absolute shame when bands have to break up and they can't see eye to eye on things. But when you look back on someone's music and you want to celebrate it that's just silly. I mean I find that incredibly self-centered…. I just find that a little bit pompous…. (As for Nickelback), we may be dead by then but I think the Rock and Roll Hall of Fame will probably show up the same time as our first Grammy.
Chad I've noticed in recent years your hair's gotten shorter and shorter and darker. What's up with that?
Kroeger:  "You sound like my dad! I think he's the only one on the planet that's unhappy with my new haircut. 'I don't know son I liked it longer.' You know, my mom's ecstatic about my new haircut. But, you know, I tried to buck this - the trends - as long as I possibly could. And in case you hadn't noticed Nickelback does not follow trends whatsoever. You know, but now all the hipsters are growing their hair long and, you know, I don't really want to do that so. I'm like, you know what I'm cutting it off. I don't see any skinny jeans and thick horn rimmed glasses in my future any time soon either."
For the whole tour you got Bush, Seether, and My Darkest Days opening. That's a lot of music in one show.
Kroeger:  "Yes, we got lucky. You know, I think we've got a great package. And it's the first night of - if any type of litmus test or indicator for the crowd. I mean counting singles throughout the entire night has got to be up around 45 or 50. We even shortened our set up. It was usually about two hours. And we got off stage in about an hour and a half, just because that is a lot of music. You don't want to bombard somebody. Our weekends sets will probably get a little longer. Thursday, Friday, Saturday, people aren't looking at their watches so much. People are kind of looking at the concourse going, how far is it to get another beer. You know, instead of, hmm, I've got to work tomorrow. So, yes there has been a little bit of shortening of things. And but it's, yes, we're so lucky, so incredibly lucky to have four bands with this much material that everybody can sing along with and enjoy."
You guys were laughing a bit ago about the rough ride that you get from the music establishment. And I was wondering if you sensed that sort of rallies your fan base behind you guys even more?
Kroeger:  "Yes, I get a sense of that. I think when that - when the whole thing was going on with the petition and, you know, the NFL was calling us twice a day going, oh, my God, we're so happy. The viewership just went up by 15 million. There -we did see this. This huge rallying of the fans and a lot of people, you know, and we feel bad. We're like, hey, hey, it's okay. We don't care. We don't care."
Peake:  "And it's like, it's, you know, as if you appreciate your fan base is very nice. But I always - I always - I hate seeing the people descend - the people in blogs. And arguing in blogs - or I shouldn't say blogs in comment sections after some article or something. It just seems so futile."
You guys usually don't respond to the hate. There are times there's been some barbs little tweets and responses. And, you know, are you having - have you changed your tune a little bit or are you having fun with it?
Kroeger:  "We're just laughing. We're just laughing while we do it. I mean it's just like when you got guys all sitting around together and we, you know, we'll hear about something and, you know, we laugh. You know, whoever comes up with the most comedic thing it's like - oh, that's good. That's really - we have to tweet that. You know, it's one of those things like, now, I mean that's one of the good things about - about Twitter and Facebook and everything. It's like when you come up with something really comedic and you want to share it with the world you actually can."
 The "Funny or Die" video. Who's idea, what you'd think about doing it, would you do something like that again?
Kroeger: "That was their idea. They contacted us. I mean obviously they saw that the silliness involved and they were like, come on we have to make fun of this on a global scale. You know, using the internet and it was, you know, it was great to be able to do it and I would definitely..."
Peake:  "Instantly said yes."
Kroeger:  "...like we were like yes. This is going to be hilarious, so. I would do that again in - or, you know, anything even like that in a heartbeat because we love self-deprecating humor, you know, and contrary to popular belief we do not take ourselves seriously at all. I mean like it is - we are the biggest goof balls in the world."
live local music on
Enter your ZIP code to see concerts happening in your area.
Data provided by Zvents
follow msn music