Joe Bonamassa catches a glimpse of "Daylight"
Little known by some, yet widely heard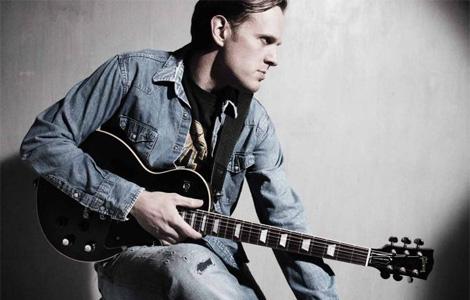 Joe Bonamassa
may be one of the most underrated guitarists since
Warren Haynes
(with whom he has collaborated). Ignored by the mainstream press, but admired by guitar aficionados (including
Eric Clapton
), Bonamassa has had a guitar in his hand since he was a child and hung out in his parents' music store in New York. The 35-year-old guitarist is known for his love of the blues, but that hasn't stopped him from covering
Tom Waits, John Hiatt
and more.
Hiatt was among the collaborators who turned up for Bonamassa's live DVD recorded at the Beacon Theater, and Clapton turned up for the one at the Royal Albert Hall. In the meantime, Bonamassa found time to record two albums in the supergroup Black Country Communion with drummer Jason Bonham, Deep Purple's Glenn Hughes and Dream Theater's Derek Sherinian.
The list of people he has guested with is too long to print. Highlights: B.B. King, Peter Frampton, David Crosby, George Thorogood,  Jethro Tull, Vince Gill, Jack Bruce, Ozzy Osbourne, Motörhead and more.
Now he's back with another solo album, "Driving Towards the Daylight." You can download the title track here. And you can stream an MSN exclusive tune, "Dislocated Boy," here.
Bonamassa has accepted that in this day and age, all breaks have to start with him, so he sits down to chat after doing a long meet-and-greet with 100 fans at soundcheck.
"We don't charge for them, by the way," he said. "A handshake in 2012 should be free. If you look somebody in the eye and say 'Thanks for coming' and you really mean it, chances are you've got a fan for life."
MSN: Maybe it's because you grew up with it, but you're really savvy about social media and letting fans tape your music. You were letting people record from the soundboard years ago, you've got webisodes up on YouTube for the new album, and anyone with a computer can hear tons of your music.
Bonamassa: "I couldn't upload a YouTube video if I wanted to. But our thing has always been… we don't generally have major media coverage. After 23 years and 13 album, up until last week my name had never appeared in an issue of Rolling Stone magazine. Never reviewed an album, never did an article. Last week they had to include me in the Eddie King induction. (Editor's note: Not quite true. Bonamassa was briefly mentioned when Black Country Communion was formed, but the article gave credit for the band to Hughes). I'm not that cat… that's not my game.  We've just closed ranks and direct market it almost like an infomercial. You know who buys Zamfir records? Zamfir fans. You know who buys Joe Bonamassa records? Joe Bonamassa fans."
So you still allow taping?
"Somebody's gonna put it up online and it's going to get 50,000 views in a month. Some take it to the extreme – 'Can we hook up our cameras and a multi-track?' We're not shooting a DVD here. But some of our videos have 1.5 million views. I don't think 1.5 million people would have heard of me if I'd clamped down and taken everybody's cellphone away."
You've worked with producer Kevin Shirley for several albums; he did some great reissue work with Led Zeppelin. So he must get your work, but do you need a producer?
"Everybody wants brackets. He's an artist, he's a producer, he sings, he dances, he makes his own catering! I'm just a guitar player who sings. That's what I do. Kevin can ultimately get the best out of me while putting me into a very uncomfortable place. Not in the sense that I'm uncomfortable with the music…it just gets me thinking. I said 'Dude, you produce the records, I'll play on them.' We've worked that way for seven years. … He's been right every time, and you can't argue with that."
Aerosmith guitarist Brad Whitford is on the new album. How did that happen?
"I met Brad's sons, Graham and Harrison, before I met Brad. His sons were fans of my playing. I met Brad about a year ago and we ended up onstage together with Warren Haynes. We all talk the same language, Les Paul, the Beano record. He's in Aerosmith but he doesn't wear it on his sleeve. He's just a guitar player. He's unassuming, then just goes up there and shreds, then says 'OK, thanks, I'll see you tomorrow.'… Brad kinda does the heavy lifting on the guitar department."
On the song "Who's Been Talking?" is that really Howlin' Wolf giving the instructions on how to play it?
"Yeah. It came from 'The London Sessions.' He was explaining how he wanted it to feel and he never got it correct. When we were gonna do the song we found this version and the voiceover was just so cool. So we pretended that Howlin' Wolf was directing us. … 'All right, Wolf, we'll get it sorted out for you.' And that was it."
How did you end up with Clapton taking the stage with you at the Royal Albert Hall?
"I wrote Eric a letter. I met him in the Middle East at a car race. I was playing a private event. … I met him and he was familiar with my music. Jools Holland kinda hipped him early on and I was shocked he even knew my name. When we got the Royal Albert Hall date I looked at the schedule and Clapton was there five days later. Law of averages says he's gonna be rehearsing, he'll be around. I just went for broke. I sent a letter and it took about three or four weeks to hear back. I got one email on a Sunday afternoon….basically​ saying 'As long as the (song) is simple and we can get it organized, I'm in.' I was freaking."
Everyone talks about your guitar influences, but what are your songwriting influences? You cover Tom Waits and Bill Withers on the new album along with your originals.
"The writing of Free. I like John Hiatt's tunes. I like Buddy Miller's tunes. I like Tom Waits. The deeper the lyrics, the better for me. Dylan is awesome, but I don't think we need 40 versions of his tunes and its sacrilege to start chopping them up. I love Howlin' Wolf's writing, Bruce Hornsby, Warren Haynes, people like that."
What's the future of Black Country Communion?
"We're not touring the band this year. I can take sole blame for that. My life has been a solo artist and the thought of …working the whole year, that kinda brutal travel and switching gears, I don't' think I'd come out the same person. We're making a record in June, we'll see how that goes. Once it makes sense where everyone gets their schedule together maybe we'll tour some more. If they want to tour some more, they're free to do it with my blessing."

Are you sure you want to delete this comment?
live local music on
Enter your ZIP code to see concerts happening in your area.
Data provided by Zvents
follow msn music