It's only rock 'n' roll -- and art and history
New book and exhibit gives rock photographers respect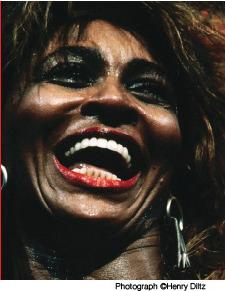 Legendary rock photographer Henry Diltz knew his Tina Turner photo was no good – until photography historian Gail Buckland made him see it differently.
"She liked this picture of Tina Turner which I thought was a total outtake because she's all sweaty. I didn't give that to the record company because I knew they wouldn't use it. That was a happy accident," Diltz said.
It also ended up being the cover photo of Buckland's new book and the exhibit "Who Shot Rock & Roll: A Photographic History, 1955-Present." The book is in stores, and the free exhibit opens June 23 at the Annenberg Space for Photography in Los Angeles and runs through October 7.
No, it's not your typical rock-photo show. Buckland happily admits she knows little about music. She's made a career as a curator of museum exhibits and an expert on photography. Rather than looking for rock-star poses, she spent the past four years traveling the U.S. and Europe tracking down the photographers who chronicled rock. The book and exhibit are packed with some iconic photos we've all seen (Pennie Smith's cover shot for The Clash's "London Calling") and a ton of photos you've never seen before. More than 100 photographers are in the exhibit, with even more of their work in the book.
Keep reading to find out how this happened.
The notion grew in Buckland's mind because she saw a photo exhibit of the history of British photography yet there wasn't a single music photo in it. She was determined to put together an exhibit of music photos strong enough to be displayed in any museum in the world.

"Many of these photographs are phenomenally important in depicting one of the most important social revolution the world has ever known," she said of the new exhibit. "Every revolution has to be documented to be believed, to be conveyed. These photographers really haven't been treated with enormous respect."
So Buckland decided to give them the respect they deserve by putting their work in museums that traditionally don't host that type of thing, to "appreciate and celebrate the men and women who gave rock 'n' roll its image," she said.
Many of the photographers, including the late Jim Marshall and Barry Feinstein, are two of the 85 photographers in Diltz's Morrison Hotel Gallery, where their work is sold as fine art.
"I'm no expert on rock 'n' roll, but that's what a lot of reviewers said was refreshing about the exhibition. All the photos are really strong. This is a field where there's such schlock. (These days) they do what the labels tell them to do and package the performer. That's not rock 'n' roll," Buckland said. "Most of the photographers in my show have relationships with musicians."
Besides telling an important story, Buckland wanted to give the photographers their due.
"It's really about putting the photographers in the forefront. The history of rock 'n' roll has been done ad nauseum. As long as they come to the exhibition understanding that they'll have a great time," Buckland said. For much of the rock era, photographers "more or less were treated like hacks."
Morrison Hotel Gallery changed the perception of rock photography. Diltz and two partners started it years ago selling his own prints at $35 each; now nothing on the website sells for under $600. After displaying his own work, he brought in Marshall – "the godfather of music photography" – and it snowballed.
"Jim Marshall, every time I saw him after he joined our gallery he'd give me a big hug and say 'Thank you, Henry.' We were giving him checks for a hundred thousand bucks! He made more money than I did," Diltz said. "One by one we just added people. Now photographers with bigger galleries come to us. They sell a couple of prints a year. We'd sell in a week what they'd sell in a year."
What's odd is that Diltz had resisted doing it for years.
"I'd been asked many times – 'Hey man, we're starting a website called Rock & Roll Photos! We'll make millions!' …I always thought that sounded so tacky. I always stayed away from those things. We agreed that we want this to be classy – fine art music photography," he said.
So he found a kindred spirit when Buckland came calling.
"She called me up and was wonderfully fluent in photo talk, which is great. I don't know if all photographers like it but I love to talk F-stops and photo stuff," Diltz said.
"I don't think my colleagues would even know who Henry Diltz is. They'd know his album covers but not his name," Buckland said. "There was a golden age of rock photography. Things have changed drastically."
It took three tries to convince Pennie Smith to let Buckland go through her London archives.
"She won't release a picture that doesn't meet her standards," Buckland explained. "She said 'No' over and over again."
Smith was sitting nearby when Buckland pulled out the famous "London Calling" cover photo of Paul Simonon smashing his bass onstage.
"I'm responding to that picture not because it was on the album. It was a good picture," Buckland said. "She's laughing her head off… 'You really don't know who you're looking at as you go through these file drawers, do you?' I said no, I don't. I chose the pictures for this show as I would for any art exhibition."
Besides the photos, the book and exhibit feature Buckland's extensive analysis of each photo and why it matters. The exhibit spent time at a number of museums before reaching the Annenberg, its final stop. The 166-photo exhibit is not only engaging and fascinating, but it includes a lecture series that will feature Diltz, Buckland, Henry Rollins, Bob Gruen and many others between now and October; check the website for the schedule. A behind-the-scenes documentary and a bonus 80-photo Diltz slideshow will be shown only at the museum. Get full details here.

"Museums have an educational mandate. It really is about learning something… what I try to do is help people look at the pictures in a way they didn't before," Buckland said. "But at the end of the day it is rock 'n' roll. It has to be fun. People have to have a good time." 
live local music on
Enter your ZIP code to see concerts happening in your area.
Data provided by Zvents
follow msn music