Mike Love tells his side of the story
Plan was to continue on all along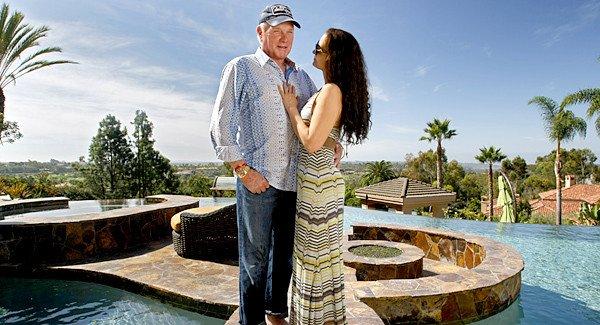 Wow. That's
Mike Love's
house and his wife in the
L.A. Times
photo above. A man needs a bit of dough to maintain that lifestyle.
That's why Love licenses and tours under the
Beach Boys
title even when he doesn't have
Brian Wilson, Al Jardine
and the rest along for the ride. After a summer tour and album with those guys -- which was better than it had any right to be -- Love made headlines when he let it be known that he was continuing the tour without Wilson or Jardine.
That prompted outrage by Beach Boy fans around the world.
But in today's Times, Love gives his side of the story
and makes a pretty compelling case that he has been more than fair with his bandmates.
You're unhappy still? Then don't go see the Wilson-less version. These guys cranked out 75 dates around the world, so if you wanted to see something approximating the classic lineup you had your chance. I'm glad they're not beating it into the ground -- and don't forget, they're releasing the Red Rocks show on DVD at some point.
live local music on
Enter your ZIP code to see concerts happening in your area.
Data provided by Zvents
follow msn music