JEFF the Brotherhood hits the big time
"Hypnotic Nights" raises Nashville duo's profile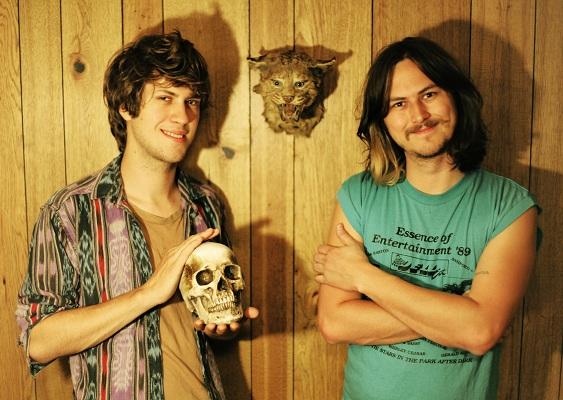 JEFF the Brotherhood
is suddenly everywhere – on
David Letterman
, in webcasts, magazines, newspapers. But nothing's ever like it appears.
"Hypnotic Nights," the new melodic hard-rock album that is garnering all the attention for brothers
Jake and Jamin Orrall
, is the sixth album they've put out as JEFF the Brotherhood. The guitar/drum setup they've had for years is fleshed out with producer
Dan Auerbach
(of
The Black Keys
) along with an actual recording budget and studio time – a full week! – to get things done.
The Nashville due are the sons of songwriter Robert Ellis Orrall, who has written for everyone from Martina McBride to Rascal Flatts to Taylor Swift.  A day after the band's national debut on "Late Show with David Letterman," Jake Orrall spoke about the album and the weird shift from being totally do-it-yourself to having Warner Brothers Records do the heavy lifting for them.
As for recording the album, "we did a lot more extra money and time to mess around a lot more and (expletive) off a lot more," he said. "Which is nice because you can go off and do something for an hour and come back and say 'What does this song need? Let's hire a saxophone player.' We could do that because we had money."
Seven days of recording was also a luxury for the duo, who usually do albums at home in a few days. Going into the studio, "everything's already totally written. The actual tracking of guitar and drums only took two days. The rest of it was all overdubbing."
While their sound didn't change much from the hard rock of their earlier albums, it did give them time to experiment a bit with Auerbach and do things differently. The song "Hypnotic Winter" is melodic and has a false stop before finishing up; "Region of Fire" features a raging extended guitar jam.
"It was very loose working with Dan. We just sorta hung out and got his advice…very natural. He didn't really wanna change our sound. A lot of it was just making sure we got good takes and offering suggestions to make it a little more accessible to a wider audience," he said.
Growing up, the brothers had "three main areas we draw from -- the first being early '70s hard rock. The second would be '80s stuff like Ramones, then a lot of grunge stuff," he said. Their father's songwriting career had no influence on them, he said. "Growing up and being around that really contemporary pop and country stuff, it's very businessy and sleepy. Neither of us had any interest in it whatsoever. We came out of the punk scene."
"Sixpack" is the first single, a decision they declined to make.
"We totally left that up to the label because honestly we don't know what should be the single. They do. We just lack the experience to decide what a single should be. Warner Brothers radio people, that's their job. So we let them do their job."
With a long tour ahead, the brothers now have to figure out what will and won't translate to the stage. Despite the major-label distribution, they still aren't in a position to put a full band on the road.
"It's just the two of us. That's all we can do economically right now," he said. "The album is the best album we can make in the studio. Our live show is the best we can do live. Those things are so different. We just try to think about them completely differently. A lot of times we'll write the songs for the record then have to do different versions that work live."
It's not a problem. After more than a decade of doing everything themselves, they're more than happy for the lift the label has given them.
"We've got 30 people working our record as opposed to pressing them and selling them on tour. It's made a huge difference," Orrall said. "It's been a slow steady build. We've had fun the whole way. This is just the next step."