Neal Schon's wild new music and life
See footage of his onstage proposal - and win his guitar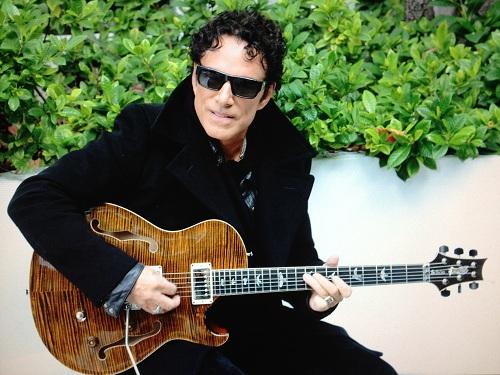 "Interesting" can't really capture the tone of the past few years for
Journey
guitarist/songwriter​
Neal Schon
. Due to exposure on "Glee" and "The Sopranos" his band's music has grown more popular than ever. His romance with "The Real Housewives of DC" star
Michaele Salahi
made him a prime target of the paparazzi for the first time in his career. And perhaps most unlikely of all: His new solo instrumental album "The Calling" is getting glowing reviews from the critics who used to
love
to hate Journey.
And that's not all. Days after Schon and Salahi sat down for a long in-depth interview with MSN Music Schon stopped a Journey concert mid-song to propose to Salahi onstage. In footage you can see only on MSN, here's the moment – with joy, laughter and passion.
Schon's new album is out already in Europe and hits U.S. shores on Monday, Oct. 22 and reunites him with
sometimes-collaborat​or
Jan Hammer
. "The Calling" was recorded at Berkeley's legendary Fantasy Studios (AKA "The House That
Creedence
Built" and the place where Journey's smash "Escape" album was recorded). You can hear song excerpts here. It's a crazy ride, but it
always
has been a crazy ride since Schon, 58, joined
Santana
at age 15, then branched off to found Journey. Schon and Salahi spent most of an hour on the phone from a tour stop in Oklahoma to talk about the twists and turns happening more than four decades since first Schon took the stage.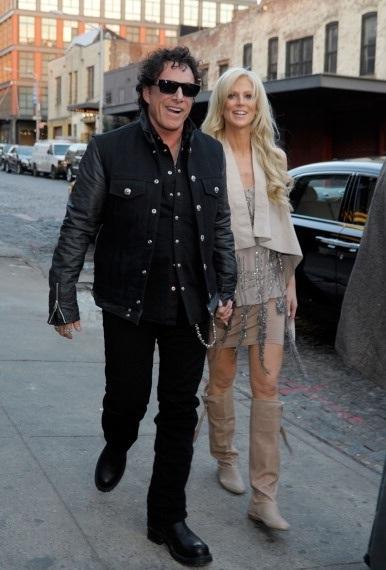 Schon wasn't generous with just his time. He has agreed to give away his personal, autographed, played-onstage guitar to one lucky MSN reader. Email your full contact information to MSNPrize@hotmail.com​. Make the subject line "Neal Schon guitar giveaway." We'll pick a winner on Friday, Nov. 2.
Schon speaks quickly and forcefully; these are his words, sliced, diced and edited for length. As he says: "It was a really crazy last year but a really great year. Right now I'm really the best I've ever felt in my life about everything. In everything."
But don't worry, Journey fans. While he wants to get in some solo dates, Journey still has two years of touring on the books, and it won't end after that. "The band is always gonna be there. I see no end to the band. There's no reason to end the band."
MSN: You could just tour constantly with Journey and let the money pour in. What makes you take a side trip like the new solo album?
Neal Schon: "When I'm in a very inspired mode, which comes from playing a lot. I'd just completed the last 'Eclipse' record with Journey in the studio and I felt like staying in there. So that's exactly what I did. I completed two solo albums after the Journey record. I had a year off from touring so I decided to take advantage of my time off. I've never been one to sit around and not do anything. Especially if I'm inspired like I was. …if I get into the studio mode I get motivated to keep on creating. I can't sleep at night. My fingers are going, my arms are going, my feet are going. I'm constantly writing….I have a lot of looping machines around the house….I get an idea and I lay it down. When it comes time to go in the studio I had all these riffs and licks laid down – hundreds of them. I plugged it in the board and started listening to all the ideas….one out of 20 is probably worth listening to. It always helps to play with really amazing musicians."
How do you approach guitar solos for a project like this? Your biggest Journey songs are known for very economical, distinctive solos with a certain tone. Here you seem to jam out more.
Neal Schon: "I did jam, that's exactly what I did. A lot of the stuff that I wrote the melody is really embedded in the actual chording. It's in the chords I wrote. The more melodic stuff like 'Six String Waltz' and 'True Emotion,' they were already sitting there. The song for Ronnie James Dio, "Blue Rainbow Sky," it was sitting there. Maybe on the melodic stuff  I took a little more time to think about 'Where do I want that note to go right now?' I laid down the rhythm guitar, Steve Smith laid down the wailing drums, and right away before I was even thinking I did two or three solos on it…. That's the beauty of making a record like this… that's the magic of a project like this. It's not thought-out, it is creating on the spot."
How did that work?
Neal Schon: "I recorded just the drums. Right after Steve Smith laid down his final drum tracks to a rhythm guitar I started taking some passes at what I was going to play. You tend to play a little more openly and freely without the bass laid down because you don't know where the root note is. Then I started moving the bass around… to embellish the guitar solo rather than the guitar playing to the drums and the bass. It's a different approach altogether. But I will do it again. It freed up the guitar completely."
It's interesting this late in your career that you're still trying new techniques when you don't really need to.
Neal Schon: "I do need to. I just never stop learning, I feel. I really respect guys like Jeff Beck and B.B. King, guys who have been doing it all their lives. They just aspire to get better throughout their career and not settle for what they've accomplished. Have I accomplished a lot and have lots of platinum records? Yeah, I do. Are any of them on the walls of my house? No. They're in boxes in my attic."
How did the events of your personal life affect the music?
Neal Schon: "I'm just at a very productive state of my life, period. It was a really crazy last year but a really great year. Right now I'm really the best I ever felt in my life about everything. In everything. When I looked at the sky the night Ronnie died – I live in this gorgeous area in Marin County with 10 acres – and it was an electric blue rainbow sky. It was just so vivid… I just thought 'That's Ronnie.' That's where the song really came from."
Michaele Salahi: "My favorite song on 'The Calling' is 'Irish Field' because Neal did it for me. I'm Irish. It's a beautiful album. (Each song) just touches your soul, then you're on to the next."
Your new video for "The Calling" was filmed at your home in Marin. Does Michaele's television experience make you more of a natural in front of the camera?
Neal Schon: "I think so. I've never been a poser. I hate taking pictures. I love photographers such as Robert Knight who just click very quickly. We did a shoot with Robert down in L.A. and we were done in 10 minutes. I just love that. It's the same in the recording studio. If you're gonna get something, you've got to get it early. The longer that it goes on you're just trying too hard. … this record doesn't come from that… it's got to have some substance, some real melody and some soul. Otherwise it's just gymnastics."
How do you name instrumental songs? The best I'd ever come up with would be "Song 1," "Song 2," "Song 3."
Neal Schon: "(Laughs). It was a long process for me. I didn't have titles. My titles were 'Song Number 1, 2 and 3' when I put them down. It's a tough thing, actually, to come up with good titles.  In the 11th hour I pushed myself to come up with titles. They came very late. 'Six String Waltz' is a waltz – it sounded like an older Journey song to me or a power ballad. … Some were simple like that."
What's it like to get great reviews now when back in the day critics took great glee in slamming your work?
Neal Schon: "I don't know! I'm certainly digging it (laughs). Maybe it's the fact that I'm older and more mature as a player. Possibly I'm getting to the better artistic side of myself, learning how to express myself and use all the tools around me. It's always who you're playing with, I have to say that."
Journey was always business-savvy. You were the first to license your songs to video games back in the early '80s.

Neal Schon: "I would really take no credit for that at all. Herbie Herbert, our old manager, this was all a vision of Herbie's. At the time when he told me about a video game I said 'You've got to be kidding.' I was just not into it. I didn't get it and I still don't quite to this day. But give credit where credit's due. He had the vision to do things for us. We got highly criticized by critics and Rolling Stone and everybody that we were commercially a cop-out band because … we were the first band to be sponsored by anybody. Now they look at it and if you don't have a sponsor you're nobody. Budweiser actually sponsored us. They put literature on every seat of every show we played about who the band was, our history, to make people familiar with us when we were first starting to tour."
And years later "Don't Stop Believin'" cemented your place in history with 'The Sopranos.'
Neal Schon: "'The Sopranos' was definitely a moment. I remember receiving an email maybe six months prior to when it actually came down that they were considering using this song. I didn't pay any attention to it. If it happens, great. If it doesn't, no big deal. I wasn't around the TV to watch the last episode and my phone blew up the next day (laughs)."
And iTunes blew up the next day too.
Neal Schon: "Yeah! Unbelievable! That song and the dimensions it has taken on isn't anything any of us could have preconceived."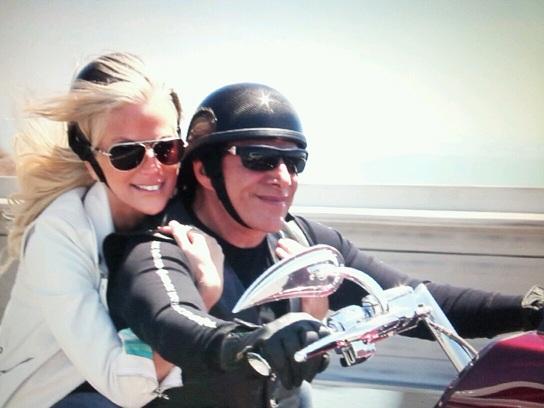 You alluded to a possible reality TV project. Is that on the radar?
Neal Schon: "We're both curious to all the offers we've received and are looking for the right one, a comfortable situation where we can do what we want to do, be ourselves and still have control. You don't want it to turn into some monster. You need to be in control. I'm not about to sign away my life to anyone."

Michaele Salahi: "Neal is kind of guiding me. I've been through that whole journey, literally. So I'm trusting in him. He's been such a big part of my life for 16 years. I know he has the wisdom and the talent to guide us to the right thing. We're just excited and thankful that people are interested. We definitely have a Ricky and Lucy thing going, that kind of vibe."
Neal Schon: "We're always on the up side. It's not about drama, even though all this drama followed us around for months and months and months. It's over. I wouldn't want to do the same scenario that you see a lot where people are in your house 24/7. I'm not comfortable with that."
Michaele Salahi: "Right!"
Neal Schon: "I'm open to letting the landscape be behind us, not being pigeonholed into 'OK, now we're in this part of the house, hang out in the kitchen"… it just can't be so stereotyped and generic."
Michaele Salahi: "When I first came the media storm was so big. He was like 'Oh my gosh, what's this all about?'  Now we have such a good time, like we are with you right now – just candid and fun and ourselves. At first he was like 'What is going on?'"
Neal Schon: "I have to tell you I learned a lot about the media in this past year that I had no clue about before. I figured it out. I really do believe I have a grip on it now and understand it. It was a different beast to take on in the very beginning – it was like 'What the (expletive) is going on?' For real."
How do you feel now that the storm has subsided a bit?
Neal Schon: "I love having my peace. I love the seclusion and the peace. We're not going to give that up for any (TV network) or any amount (of money)."
Michaele Salahi: "We're having a great time. Whether we're on the road or at home…there's 16 years between Neal and I. People ask 'How are you still on the road? How do you deal with it?' A lot of my friends are really girlie, you know, from the 'Real Housewives.' You know what? When you're in love with someone and you have that bond it doesn't matter if you're sitting on a deck at home in Marin or you're out on a bus or a jet. Wherever. You're with the person you love."


Are you sure you want to delete this comment?
live local music on
Enter your ZIP code to see concerts happening in your area.
Data provided by Zvents
follow msn music