Neil Young -- good news and bad news
"Americana" album is literally that.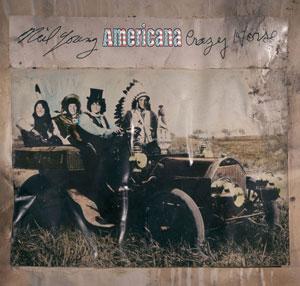 Fans were thrilled to hear that
Neil Young
was making the first album with
Crazy Horse
in nine years, and even more thrilled to hear a long
37-minute studio jam
that Young posted on his website. Could The Horse be back? It has been a long time, and the last studio album was the conceptual song cycle "Greendale," an album that makes very few fans' top-ten list. Many fans agree that the last great Neil Young and Crazy Horse album was "Ragged Glory" back in 1990, an album that lived up to its title. But 1996's "Broken Arrow" was no slouch either, with a few classic tracks, and for some "Sleeps With Angels" from 1994 is still an acquired taste.
Now the new album has a release date -- "Americana" comes out on June 5. And it's weirdly going to live up to its name, as it is a disc of all cover versions of American classics such as "Oh Susannah" and "Tom Dooley."
Some fans are already aghast; others are more wait-and-see. After all, Young did a great job with "Home on the Range" from the "Where the Buffalo Roam" soundtrack, as well as the definitive cover of
Ian Tyson's
"Four Strong Winds" years ago.
Plus
Bruce Springsteen
partially blazed this trail with "We Shall Overcome: The Seeger Sessions" where he took on such standards as "John Henry" and "Shenandoah."
That said, it certainly is a twist that fans didn't expect -- but what's new? That's Neil. He also promises to have his autobiography out this year. And maybe even "Archives II." As usual, fans are left waiting and wondering. Meanwhile, here's the full track listing:
"Oh Susannah"
"Clementine"
"Tom Dooley"
"Gallows Pole"
"Get a Job"
"Travel On"
"High Flyin' Bird"
"She'll be Comin' 'Round the Mountain"
"This Land is Your Land"
"Wayfarin' Stranger"
"God Save the Queen" (probably not a
Sex Pistols
cover, but it would be great if it was).
live local music on
Enter your ZIP code to see concerts happening in your area.
Data provided by Zvents
follow msn music