Ted Nugent's latest publicity stunt
He'll be at the State of the Union on Tuesday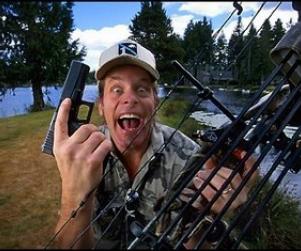 Whatever happened to "shut up and sing?"
The New York Times reports that a special guest will be in the audience during Tuesday's presidential State of the Union address – one draft-dodging gun-toting former rock star, Ted Nugent.
He tells the Times that not only will he be attending but he'll voluntarily leave his guns at home: "I will be going in sans the hardware store on my belt. I live a well-armed life, and I've got to demilitarize before I go." Given that the Secret Service had to pay him a visit over incendiary remarks he made last year did he think he or anyone would be given a choice?

Better yet, he'll give a press conference afterward to tell us what he thinks, just in case this NSFW video didn't make it explicitly clear.
Wait -- it gets more cynical than that. Nugent's announcement that he'll be attending comes on the same day of the announcement of his latest tour -- being on the bottom of the bill as the opening act for
Styx
and
REO Speedwagon
in April. Sensitive and compassionate -- that's our Ted.
live local music on
Enter your ZIP code to see concerts happening in your area.
Data provided by Zvents
follow msn music