Queen Extravaganza: Two free tickets for each show
Plenty more prizes where that came from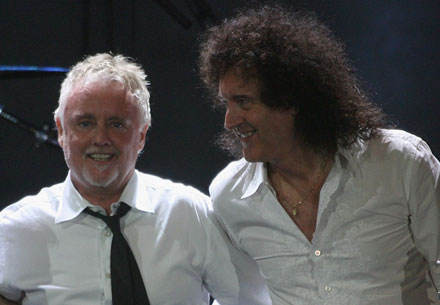 Queen Extravaganza: The Official Queen Tribute Show
is
an homage to Queen
overseen by guitarist
Brian May
and drummer
Roger Taylor
. They've hand-selected guitarists, vocalists, keyboard players, the whole lot, to take Queen's catalog out on the road and do it justice – including, for the first time, performances of "Bohemian Rhapsody" that are completely live (out of necessity, backing tracks were used by the original band, as even their four voices couldn't cover the huge, operatic middle portion of the song).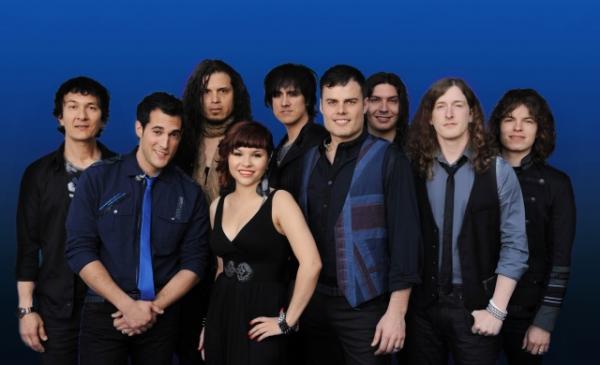 And in an MSN Music exclusive, Queen Extravaganza is giving away two tickets to every single performance on the North American tour, starting Saturday in Quebec, winding across the United States, then ending back in Canada on July 3. That's 26 pairs of tickets, with dates ranging from Seattle to Tampa; click here to see the full tour itinerary.
All you have to do is email your contact info to MSNPrize@hotmail.com​. But hurry – the tour starts Saturday, so we're giving away tickets for the first five shows (Quebec, Montreal, Toronto, Detroit and Chicago) ASAP -- we wanna get you in those seats. So send those entries now.

Even if you're going to a different city further along in the tour you can enter your name now (and get your friends to help you out and increase your chances).

That's not enough? Besides the 26 pairs of tickets, we're giving away 10 huge sets of the Queen catalog: "Queen," "Queen II," "A Night at the Opera," "A Day at the Races," "First Wave" (a 33-track radio promo sampler), "Sheer Heart Attack," "Greatest Hits II" on CD (all digitally remastered) and "Greatest Video Hits 2" on DVD. Everyone who enters gets a shot at those prizes, whether you win concert tickets or not.

Still not enough? Out of all the entrants, one grand-prize winner will get "Queen 40th White Box Set" and "Queen 40th Red Box Set," along with a hardcover copy of Mark Blake's bio "Is This the Real Life: The Untold Story of Queen."
So here's what you need to do. Again, send an email to MSNPrize@hotmail.com​. In the subject line, put "Queen Extravaganza" and the name of the city where you'd like to see the show – "Queen Extravaganza Las Vegas," "Queen Extravaganza Detroit," "Queen Extravaganza Quebec," etc. – you're smart, you get the point.
Put your contact info in the email – name, address, phone where you can be reached, whatever it takes so that we don't miss getting these tickets to you.
And prepare to be amazed.
We recently took part in an interview with Taylor and with Queen Extravaganza's Marc Martel, the latter an uncanny match for Freddie Mercury's vocals.
Many of the Extravaganza musicians are Canadian, as are some of the dates. How did that happen?
Taylor: "There we are so we have a very strong Canadian contingent within the band. And it just turned out that way; it turned out that way - that's just the way it worked. The Canadian talent was of such a high order that we ended up with almost half the band being Canadian."
Martel: Martel: "We don't have much more to do in the cold winters than to stay inside and practice our musical chops!"
What was the criteria for someone to make the Extravaganza cut?
Taylor: "We weren't just looking for copies of us, we were looking for, one, great musicianship and two, obviously the great charisma and the right people…for instance our drummer plays very much in my style. … what we weren't looking for were look-alikes (but) of course in Marc we have an uncanny resemblance to Freddy's vocal characteristics."
On having a bigger ensemble playing Queen's songs:
Taylor: "I sometimes wonder how there were only four of us before we had a keyboard player, that was later on in the '80s.So we did the first ten years of our career with just the four of us, no additions, you know the technology wasn't there. So what we were - we were relying on stripped down versions, adrenalized versions of our songs and our own personalities. Of course Freddy had an awful lot of that, but with this band of course there are nine people on stage and what we are attempting to do, we are attempting for instance 'Bohemian Rhapsody' will be performed (live) in its entirety.So we will be able to do what we couldn't do before, all harmonies, all the little tricky parts that we put on to the records. So this will give us the tools to do that. We have tremendous vocal power in this band and of course the vocals were a very large part of what Queen did."


i'm sorry but there's only Freddy Mercury and he's the only one who can do the songs. Queen Extravaganza will never be able to do the songs the right way. i know that Brain and Roger gave you the rights to do the songs. I still don't think that it is right. I have been a true Queen fan from as far back as i can remember. I don't think that i could every go to another show that doesn't have Freddy singing
Are you sure you want to delete this comment?
live local music on
Enter your ZIP code to see concerts happening in your area.
Data provided by Zvents
follow msn music