Stepping up in Sandy's wake: The '12-12-12 Benefit' concert
The ubiquitous relief event skews old but rocks hard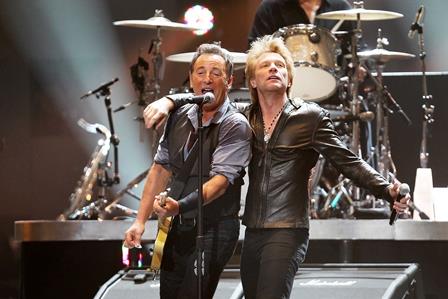 By Alan Light
Special to MSN Music
NEW YORK — It might have been the single greatest gathering of talent for a rock show—or it might just have been, as Mick Jagger put it, "the largest collection of old English musicians ever assembled." On Wednesday night, Madison Square Garden hosted the almost six-hour "12-12-12: The Concert for Sandy Relief," bringing together musical superstars of several generations and raising tens of millions of dollars for the Robin Hood Foundation's efforts to help restore and rebuild the areas of New York, New Jersey, and Connecticut that were ravaged by late October's Superstorm Sandy.
 Many of the concert's anchors — Paul McCartney, The Who, Bon Jovi, Billy Joel — had also appeared at the Manhattan arena eleven years ago for the legendary "Concert for New York," which followed the terrorist attacks of September 11, 2001. But if anything, the "12-12-12" show was more rocked-up than its predecessor, with the mellow James Taylor/Paul Simon axis replaced by young guns including Alicia Keys, Kanye West, and Chris Martin of Coldplay.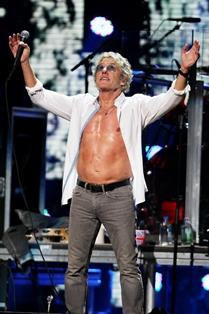 Still, the vintage of the line-up was a source of some humor throughout the evening. "If you're going to donate tonight," said Martin, "think of a figure that matches the average age of the performers, and I bet we'll raise billions!"
From the evening's very first song, Bruce Springsteen and the E Street Band thundering through "Land of Hope and Dreams," a few themes were clear: Messages of uplift and perseverance would determine much of the song selection, and these were not going to be strictly "greatest hits" sets. In their meager two-song performance, the Rolling Stones played the largely-forgotten "Voodoo Lounge" track "You Got Me Rockin'" before unleashing an extended, snarling "Jumpin' Jack Flash." The Who mixed several songs from their current tour playing the entire "Quadrophenia" album alongside classics like "Baba O' Reilly" (with Pete Townshend singing "It's only Sandy wasteland") and "Pinball Wizard."
 The "12-12-12" show also included numerous actors and comedians offering tales of heroic efforts in such devastated spots as Red Hook, Brooklyn; Breezy Point, Queens; and much of the Jersey Shore. Most memorable was an appearance by Adam Sandler, backed by Paul Shaffer, delivering a parody of Leonard Cohen's "Hallelujah" that rhymed the title word with "Sandy, screw ya," and lamented both the storm's destruction and the sorry recent fate of New York's sports franchises.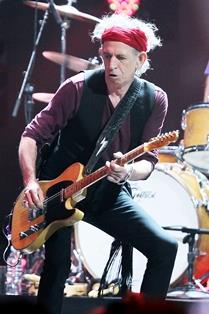 In the press area backstage, the random assortment of celebrities these events always seem to attract — Katie Holmes, Martha Stewart, Tony Danza — were paraded in for photo ops, while some of the performers spoke about the ways in which Sandy hit close to home; Susan Sarandon described losing power in her downtown apartment, while Richie Sambora said "My mom's house got trashed—she's living with me now!"
Onstage, many of the notable moments came from collaborations that could only arise on a night like this. Jon Bon Jovi joined Springsteen for "Born to Run," and Bruce repaid the favor on Bon Jovi's "Who Says You Can't Go Home." Michael Stipe sang a lovely "Losing My Religion" with Chris Martin, and Eddie Vedder nailed the vocal in a duet with Roger Waters on Pink Floyd's "Comfortably Numb." (Backstage, Waters said that "Eddie was absolutely amazing, it was like a dream come true.")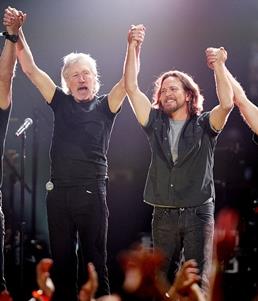 The most jaw-dropping partnership of all came near the night's end, when the surviving members of Nirvana — Dave Grohl, Krist Novoselic, and Pat Smear — performed a new song with McCartney called "Cut Me Some Slack" off the soundtrack to Grohl's upcoming "Sound City" documentary.  During the song the Beatle joyously wailed and pounded on a cigar-box guitar and Grohl bashed away behind the drums like a crazed Muppet, just like the old days. It was a perfectly-scaled gesture, celebrating the camaraderie and magic of the event without pretending to be any more important than it really was.
The biggest surprise of the night may have been Kanye West, whose position sandwiched in between The Who and Billy Joel didn't bode well, but who responded with a set that built to a ferocious intensity. Dressed in a leather kilt, West kept the stage empty and dark and remained tightly focused in a set that ran twice its allotted ten-minute length; even hits like "Gold Digger" and "Good Life" burned with passion, and demonstrated that he — and the hip-hop he represents in this crowd — belonged on a stage with these giants.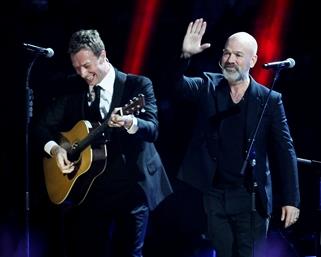 It was after 1 a.m. when McCartney wrapped up his set with "Live and Let Die," and the torch was officially passed when the "12-12-12" show did not end with the expected singalong to "Hey Jude" or "Let It Be," but with Alicia Keys returning to the stage to sing New York City's true 21st Century anthem "Empire State of Mind." In that moment, it was easy to forget the late hour, to feel hope for the victims of this unprecedented natural disaster, and to understand what she was saying: These streets will make you feel brand-new, big lights will inspire you, here in New York.
* Photos by Dave Allocca, AP/Starpix
live local music on
Enter your ZIP code to see concerts happening in your area.
Data provided by Zvents
follow msn music