R.I.P. Levon Helm
Two days after cancer announcement, a legend succumbs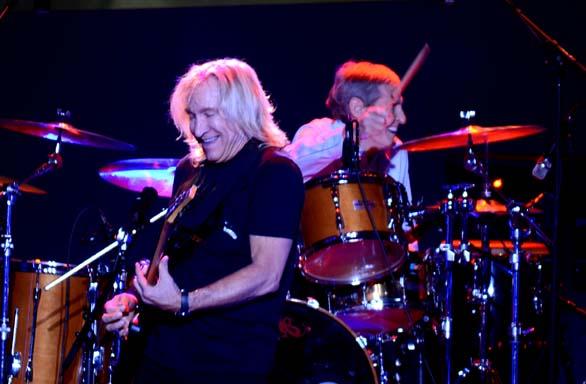 photo: Brian Stratton 
That was too quick.
Levon Helm's
family just announced that he was near the end of his life, and now he's gone.
It was too young for such a legend to go, but I try to focus on the bright side. Helm lived life on his own musical terms and did what he loved until he couldn't anymore. Check the photo above -- that's Levon playing with
Joe Walsh
in New Jersey late last year, and you can see from the look on his face he's having a blast. That's the Levon Helm I want to remember.
His surviving partner from
The Band
,
Robbie Robertson
, visited him over the weekend and posted this lovely Facebook tribute:
Last week I was shocked and so saddened to hear that my old band mate, Levon, was in the final stages of his battle with cancer. It hit me really hard because I thought he had beaten throat cancer and had no idea that he was this ill. I spoke with his family and made arrangements to go and see him.On Sunday I went to New York and visited him in the hospital. I sat with Levon for a good while, and thought of the incredible and beautiful times we had together. It was heartwarming to be greeted by his lovely daughter Amy, whom I have known since she was born. Amy's mother, Libby Titus, and her husband, Donald Fagen, were so kind to help walk me through this terrible time of sadness. My thoughts and prayers are with his wife Sandy.Levon is one of the most extraordinary talented people I've ever known and very much like an older brother to me. I am so grateful I got to see him one last time and will miss him and love him forever.
Robbie Robertson