Donna Summer and The Boss
Late disco diva had an admirer in Springsteen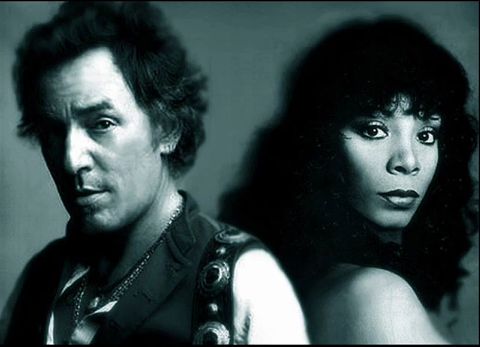 Plenty of accolades and tributes will surface in the coming days for the late
Donna Summer
and the vast influence she had on popular music. But for the moment, here's a rarity worth hearing.
While many rock fans were still toeing the "Disco sucks!" line in the early '80s,
Bruce Springsteen
was an admirer of all forms of music, writing songs for everyone from The Ramones (who declined) to The Knack. He also wrote a song with Summer in mind - "Cover Me." The decision was made to keep it for the "Born in the USA" album so he came up with another song, "Protection." He played on Summer's version, which was released in 1982.
Many years later, Springsteen's own version leaked on bootleg recordings. And fans being fans, someone took his version and combined it with hers, creating the duet that the two were rumored to have recorded and shelved at the time. So here we have, through the magic of bootlegging and computer technology,
Springsteen and Summer finally doing a mashed-up duet on the song
.
live local music on
Enter your ZIP code to see concerts happening in your area.
Data provided by Zvents
follow msn music